MACH KC's Stella By Starlight MXB MJB DM DSA PT
About Stella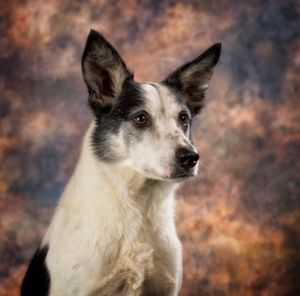 Stella was adopted from a local rescue organization. She had no training and was in poor health.  However, Stella excelled quickly with a job to do -- while sheep herding is her passion, she also was proficient in dock diving, agility, lure coursing, and frisbee.

Stella lives to work. She would much rather be out on "her" ATV watching the sheep than inside on the couch with us. She easily has a 200yd outrun and a 100yd drive and cross drive. She has lovely square flanks, and has a lot of eye and style on her sheep.
Stella and I competed a handful of times at the Novice and Pro-Novice level (USBCHA) before dog sports took over our lives. Stella is my first MACh dog, first USDDN Frisbee World Finalist, placed 4th at the 2014 Skyhoundz World Finals in Time Trial, and placed in the top 20 at the 2016 NADD Dock Diving finals.
Stella performed several times as part of the Purina Incredible Dog Team and was always a crowd favorite with her flips and handstand. 
Unfortunately, Stella suffers from OCD in both of her shoulders and her agility/working career has been drastically restricted because of it. She still competed in dock diving up until 2020 and her personal best is 25'1"! In the 2017 NADD Championships, she took 3rd in a very competitive Master Veterans division!!!! She also placed in the top 3 in 2018 and in 2019 she was the National Reserve Champion. 
In 2021, at 13 years old, Stella makes her AKC Herding debut and easily earns her PT title. 

Stella has taught both me and Dean a lot, not only in dog sports but about the breed as well. She's been a breeze to train, but her high drive and work ethic was a struggle in her younger days!
Stella lost her battle with kidney disease 10/26/2021 -- there won't be another like her. 


That'll do, Stell.