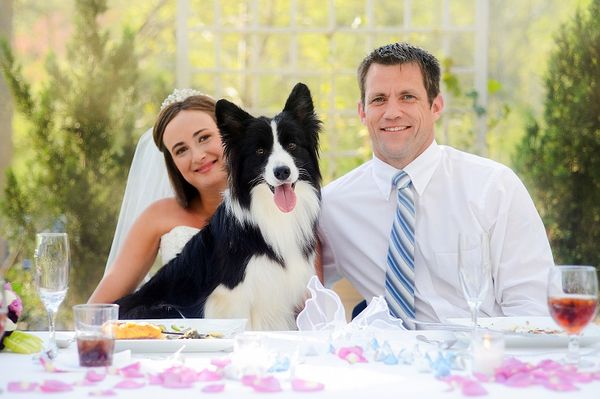 Our Story

We are Border Collie and dog sports enthusiasts located in Georgia. We have been involved with the breed since 2004 first through Border Collie rescue, and then through the amazing world of dog sports in 2008.  My husband, Dean, and I met when he came to look at a little rescue Border Collie I had for adoption in 2011 but it wasn't until the following year when we met again at a local agility trial that we finally started dating. The rest they say, is history.

Our dogs are first and foremost members of our family -- they live in the house with us, go on vacations with us, and even sleep in the bedroom at night. I am a professional dog trainer (behavioral, obedience, and sports) and full time business owner while Dean is in the car business. When Dean and I got married, the most important thing on our wedding list was finding a ceremony site that would allow all of our dogs! We absolutely wanted them all there on our special day. We were also lucky enough to have such great friends and family there to help us wrangle them all for photos. 

Often times we are asked.....do all the dogs participate in all the sports? Well, yes and no! You see, my heart lies with agility whereas Dean's passion is Frisbee. For this reason we do have certain dogs trained to higher levels within each sport. All of our dogs learn the basics of agility, dock diving, frisbee, scent work, obedience/rally, lure coursing, and get exposed to livestock to see where they truly excel (and see what THEY truly love). A few of my dogs have started showing in the conformation breed ring as of 2017, though I will always been a performance person through and through..... so I guess you could say we have "his and her" dogs. Which brings us to this next very important piece of information regarding names: 
O'my!, interjection
Used to express surprise, wonder, shock or amazement
Expression of surprise, excitement, or astonishment

synonyms: wow, OMG, incredible, holy cow, jeepers, amazing, unbelievable
Between myself and Dean's personal dogs, we have had four Master Agility Champions (MACH/MACH2), thirteen Skyhoundz World Champion Disc Dogs (and too many finalists and podium placements to count), one World Record holder in Skyhoundz, several National/Regional Champions (and reserve champions) in NADD/North America Diving Dogs and many breed champions (CH)  and grand champions (GCH) -- this list doesn't include the extended family (dogs bred by us but not owned by us)'s long list of accomplishments in agility, disc, dock diving, obedience/rally, scent work, and the breed ring.  Our dogs have also done many halftime shows and events/fairs, they love to show off, wow the crowd, and make people laugh and smile!
We are happy to discuss our dogs for those wanting additional information about them, previous litters, etc. however please note:

Our waiting lists are closed, however we may entertain a limited number of applications from those seriously interested in our dogs. It's best to start communication sooner rather than later as the wait could be anywhere from 2-4 years as we don't often have puppies. 
 
We occasionally have or know of older Border Collies available for rehoming/adoption -- we are actively involved in Border Collie rescue and normally recommend people start there on their search first. There are a lot of great dogs who land in the wrong place, through no fault of their own, when people don't realize the needs of this highly intelligent breed. We are friends with quite a few reputable Border Collie rescue organizations and we would be happy to point you in the right direction.

Thank you for taking the time to learn a little about our family. For more information about us or our dogs,  please contact us.

 
- Katy and Dean