Call Name: Daisy
DOB: ~ 2000 - 12/16/2015
Breed: Retriever/Spaniel mix
Color: Black
Coat: Medium Rough
Height: 17.75"


Weight: 34 lb
Daisy is spayed.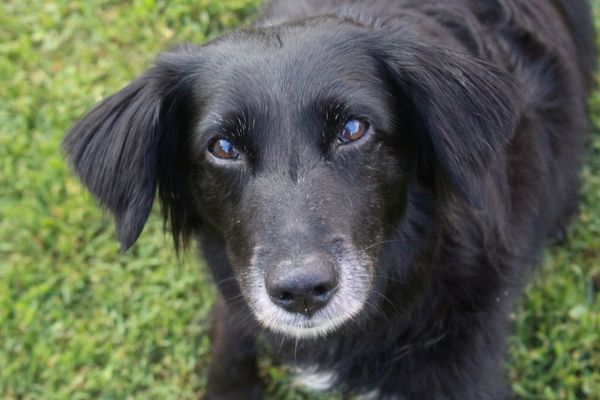 About Daisy
Daisy is our resident old dog and couch warmer -- she is our alpha and keeps everyone in line. She is sassy, confident, sweet, an avid hunter, and slightly senile.
Daisy was my 2nd dog and I rescued her from Paulding Animal Control in Dallas, GA. She loves to hunt and do nosework. The new sport of Barn Hunt is really her thing!! She got her Novice Barn Hunt title in just one weekend, but the smile on her face was just priceless.
This dog is my constant companion and brings my day so much love and laughter. Every night she demands for two things: 1) to lick the ice cream bowls clean and 2) to be picked up to sleep on the bed. Daisy is my world, and every day is a gift to have her by my side. I'm not sure anyone will really understand how special she is to me (not even Dean, though Daisy's rubbing off on him!). 
It's with a heavy heart that we announce that Daisy passed away on December 16, 2015 -- unfortunately she just could not fight the canine epilepsy demons and we made the hard decision to set her free. Our home is not the same and we see and hear her everywhere. Our hearts are just broken. Run free, my girl, and be sure to greet all the others who will follow and keep them in line. There will be ice-cream galore and lots of rats to hunt....until we meet again.