Inferno's Honey Badger OA OAJ DMX DE
Call Name: Tease
DOB: 8/7/2012
Color: Black Tri 

Height: 20.5"
Weight: 28 lbs



Tease is dual registered with the ABCA/AKC. Tease is spayed.
About Tease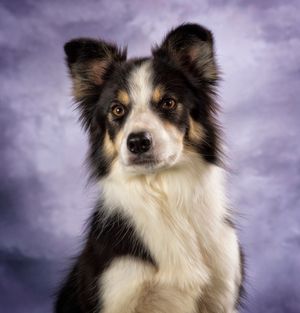 Tease is our wild child. She likes to go zero to sixty in less than 5 seconds and she will work for as long as you ask (and even longer if you'd let her). She reminds me a lot of first Border Collie, Stella. She is very intense and borderline insane. Tease was never bred. 

Tease mainly competed in frisbee with my husband. She is a phenomenal disc dog and loves to fly! She also competed in agility and dock diving for fun. Her personal best on the dock was set in 2015 with an amazing 25'6"!!!  There is nothing this girl can't and won't do.... she will always try!!

Tease has progressed quickly in disc, qualifying for the 2015 USDDN World Finals and in 2015 Skyhoundz World Finals for freestyle. Unfortunately Tease suffered a major injury in 2017 in which she won't return back to competition level freestyle or agility, however she still competes competitively in dock diving. 
While Tease has been retired from freestyle and agility competition, she is still one of our main performance dogs for half-time shows, performances, and demonstrations. With her flashy tricks, flair, and intensity she is a "crowd pleaser". 
*** Tease places 5th in the 2017 North America Diving Dogs National Championship in Orlando, FL in a very competitive Master division with 140 dogs entered! ***
2015 Skyhoundz Classic World Finals - Round 1