Wescots Hell on Heels CGC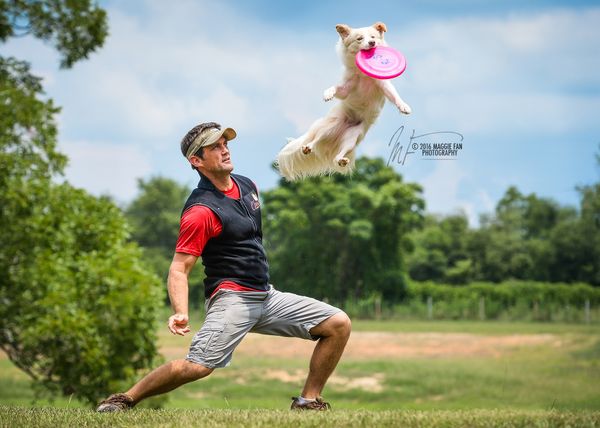 Call Name: Glamour
Nick Name: Glam, GlamGlam
DOB: 6/20/2015

Color: ee red (gold/white)
Coat: medium rough

Height: 16.75"
Weight: 22#
 
CEA/CH: Clear
TNS: Clear
CL: Clear
Click here to be taken directly to OFA: 
OFA Hips: Good (prelim)  


CERF: Normal
BAER: Normal 

*Glamour is spayed and was never bred.
Meet Glamour!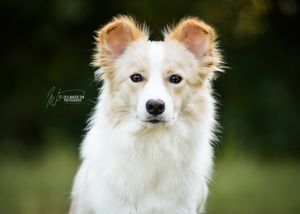 Glamour is a gorgeous ee red (gold/white, may be a merle) girl from Wescot Border Collies breeding of "Puzzle" x  "Player" , bred and whelped by Wendy Jordan. You can find out more about this litter by clicking here. 

When Glamour was just a few weeks old we had hoped she would be the one to make her way home to live with her daddy. Her sweet personality, charisma, and personality had us smitten. Glamour reminds us a lot of her maternal grandmother, Doodle (CH NOYTCB Awesome Dream), with her balance, moderation, and type. We are thrilled Wendy agreed to let this little Primadonna come and live with us.

Glamour is our personal source of entertainment. She is hilarious and is quite opinionated. She has a sweet and sassy personality and is super fast and "bendy". She has amazing "hops" and hang time for the disc, much like her daddy Player. 

In 2017 at her first ever Skyhoundz World Finals, Glamour wins the top spot as the World Champion for both Distance/Accuracy and Freestyle, making her 3rd dog in Skyhoundz History to win both divisions in the same calendr year. Wow, wow, wow!!!! In 2019, she became another World Champion in Microdog Open Freestyle!  Glam loves playing disc, especially with Dean, and they are such a fun team to watch. 
**NOTABLE ACCOMPLISHMENTS**

*2017 Qualified for Skyhoundz World Finals in DDAT Freestyle*
*2017 Qualified for Skyhoundz World Finals in Classic Freestyle*
*2017 Skyhoundz WORLD CHAMPION in Microdog Open Freestyle*
*2017 Skyhoundz WORLD CHAMPION in Microdog Expert Distance/Accuracy*
*2018 Qualified for Skyhoundz World Finals in DDAT Freestyle*
*2018 Qualified for Skyhoundz World Finals in Classic Freestyle*
*2019 Qualified for Skyhoundz World Finals in DDAT Freestyle*
*2019 Qualified for Skyhoundz World Finals in Classic Freestyle*
*2019 Skyhoundz WORLD CHAMPION in Microdog Open Freestyle*