MACH2 PACH Yosemite Hate The Game RN MXS MJB MXP2 MJP2 BCAT DMA DSX AMX ASA PT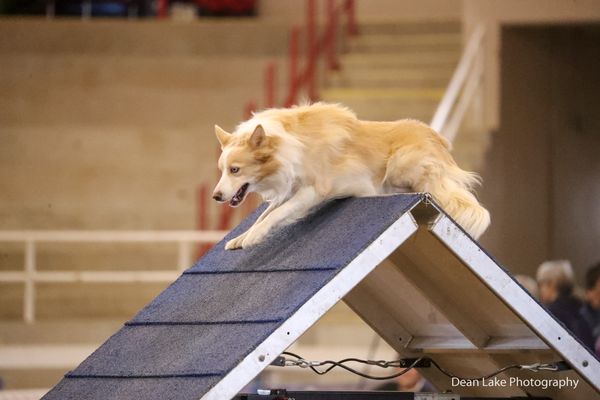 Call Name: Player
Nick Names: Play, Dude, Mr. Perfect
DOB: 3/15/2012

Color: ee red merle, carries tricolor, red (B/b), and dilute
Length: medium rough

Height: 21.5"
Weight: 44.5 lbs

 
CEA/CH: Normal (all tested through Optimal Selection)
TNS: Normal
CL: Normal
IGS: Normal
DM: Normal
MDR1: Normal
SN: Normal
PLL: Normal
BCG: Normal
DH/RS: Normal
EAOD: Normal
BAER: Normal 2012, retested Normal 2/18/2022
CAER: Normal 8/7/2021
  
As of 2021 Player is retired from breeding ; we do have frozen semen stored for the far future.
(click here to go directly to the official OFA website)
OFA Hips: Fair
OFA Elbows: Normal
OFA Shoulders: Normal
OFA Patellas: Normal
OFA Basic Cardiac: Normal
PennHIP: 70th Percentile

Litters (click on each link to meet the puppies!):

Click here to be taken to a page with all 52 of his kids listed. 
Click here to be taken to a page with his 54 grandkids and 11 great-grandkids listed.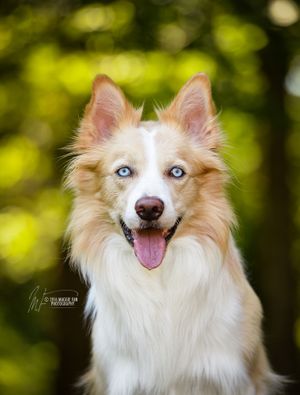 Player is our handsome ee-red merle Border Collie. Apart from his good looks, incredibly sound temperament, and great structure this boy can do it all.  He has an amazing work ethic. He pours his heart into everything you ask of him and his smile is contagious. This boy just LOVES life. 
He truly excels at everything he tries -- agility, dock diving, frisbee, herding, and lure coursing. In agility, he progressed quickly and in only 3 shows he was competing in the Masters level, already hitting 7.0+YPS in several Jumpers runs. He is a powerful dog, nice jumper, with nice turning ability and lovely natural distance. He uses his body very well both on and off the course.  At just over 4 years of age with limited trialing, Player earned his Master Agility Champion (MACh). 
Player loves dock diving and frisbee when he is not tearing it up on the agility course! His personal best in dock diving is 25'8" and earned an invite to compete at the 2015 Ultimate Air Dogs (UAD) Nationals as well as an invite to compete at the Purina Incredible Dog Challenge Eastern Qualifier in Boston, MA. 
He set a High Score Record in Skyhoundz Frisbee in 2013 in a game called Spot Landing (53 points) as well as another Skyhoundz World Record in 2015 for Pairs Distance and Accuracy (which still has not been beaten as of 2022!).  Player was a real showstopper in Xtreme Distance, being a World Finalist in 2013, 2014, 2015 and 2016. He took 5th in the World Finals in 2013 and 8th in the World in 2014 in one of the Xtreme events. His big stride chases down that frisbee disc effortlessly. He has incredible hang-time in the air for the disc and on the dock....something most Border Collies don't typically possess naturally. He will work for anyone and give them 100% each time -- he has a quick hand off and great tracking abilities.
In 2016, Player became a Skyhoundz World Champion in Time Trial. He placed 2nd in Spot Landing and he took 5th in Pairs Distance/Accuracy. He also placed 4th in the North American Diving Dogs (NADD) Championships in Orlando, Florida competitive event of Air Retrieve with an impressive snag of 21', making him the first Border Collie on recored with NADD to hit 21'. He finished the year as the #1 Border Collie in Air Retrieve (all division) with NADD.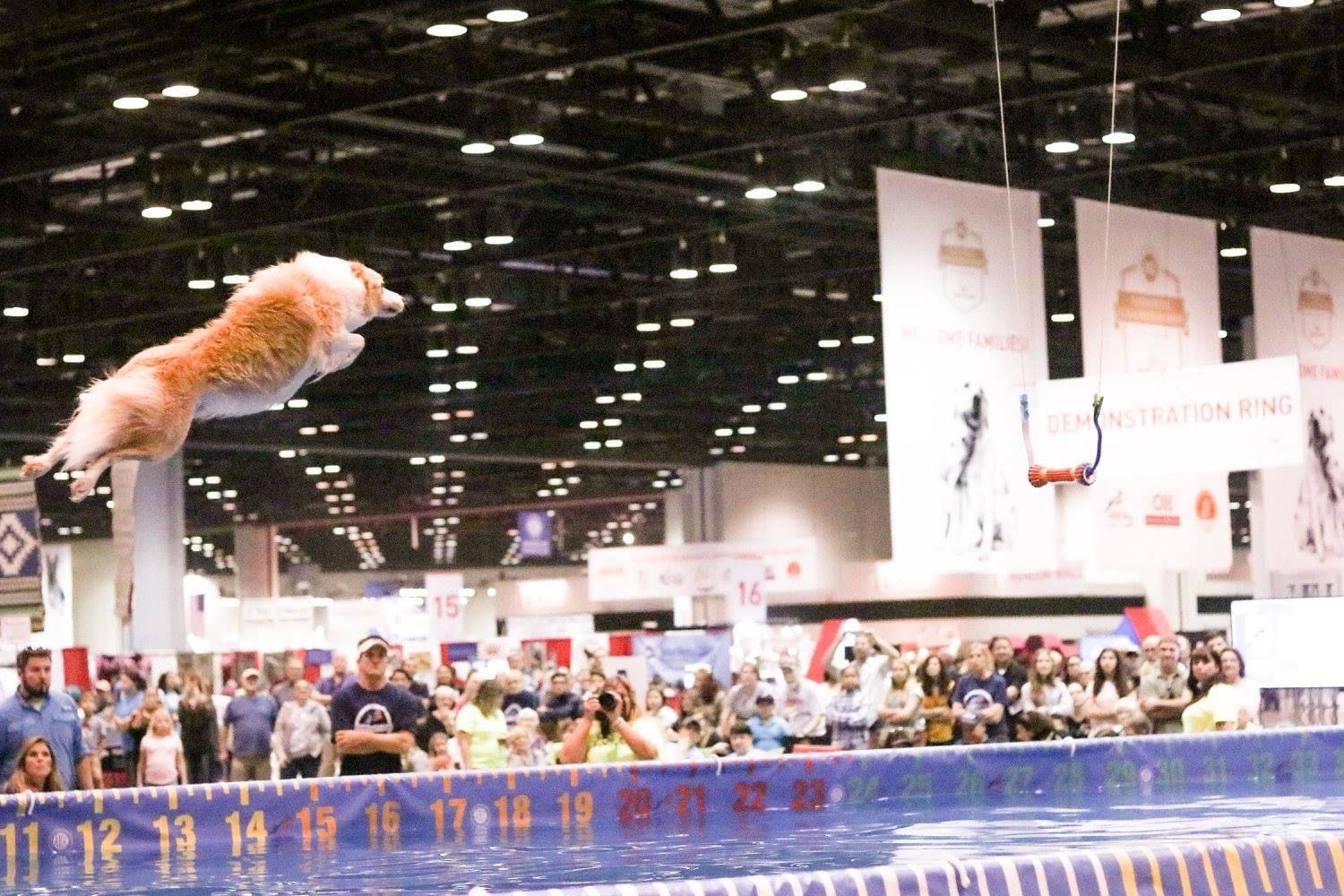 In early 2017, Player went to the AKC National Agility Championship and after three clean rounds in our first ever AKC Nationals, he cumulatively placed 10th out of 330 dogs in the 20" class at the NAC, which earned him a spot in the NAC Finals! In NADD, he was once again the #1 Border Collie in all divisions Air Retrieve with his son Shazam as the #4 and daughter Kitty as the #7 Border Collie (both from his 2014 litter to Jenga!). Player was still the first/only Border Collie in NADD history to reach 21' in AR during 2016 and 2017. 
In 2018-2019, we took time to focus on our new business so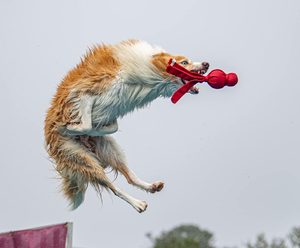 training and trialing have taken a temporary backseat for all the dogs. Player also suffered a major agility-related injury while on the course in 2018. After months of rehab, Player still qualified for the NADD National Championships along with 7 of his kids. Player was ranked the #1 Overall Senior Division dog in NADD for the 2019 season.  He also made the top 10 in the Skyhoundz Classic World Finals and then finish strong in 6th place out of 100+ of the best teams in the World in 2018/2019. 
In 2020, he won the NADD Gulf Coast Regionals in Veteran Senior Distance and Senior Air Retrieve, with a perfect round going clean from 15-18'. Two of his kids became Regional Champions as well, Shazam (xJenga!) in Master Distance and Hush (xRemedy) in Junior Distance. Shout! (xSiri) placed 4th in a highly competitive Senior division. We are so proud of Player and his kids!!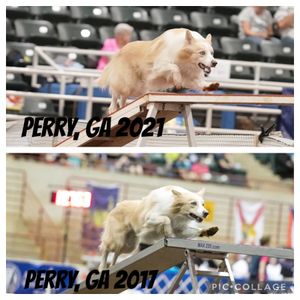 In 2021 after an almost 3 year hiatus from agility competitions and at 9.5 years old, Player and I hit the agility ring to finish our MACH2. Lovingly referred to as Mr. Perfect throughout his life with us, not a foot out of place (as you can see by his dog walk performance from 2017 at the NAC to 2021), he still placed in the competitive 20" class against dogs half his age and still remains an efficient jumper and an excellent teammate. He qualified for the 2021 AKC Agility National Championship in the 20". As of October 2021, he will now compete in the 16"P Division and we will continue to play for as long as he'd like!
At the 2021 Skyhoundz World Championship Finals, Player became a World Champion once again in Time Trial, with an impressive 15.3s run (in the rain and mud). 
In the 2021 NADD season, Player was the #1 Veteran Border Collie in the Senior Distance division. He also won the 2021 NADD SE Regionals in the Veteran Senior Division for the 2nd time in a row. This secures his invite to the 2021 NADD National Showcase to be held in October in which he placed 2nd in his division, becoming
2021 NADD National Showcase Reserve National Champion
in Veteran Senior Distance
! Player competed alongside alongside kids River, Shout!, Vanquish, Torque, and Hush who also won/placed in their divisions and grandkids Atari, Caliente, Bounce, and Rampage. Player has also finished his Rally Novice title, his PT AKC Herding title, and his BCAT in lure coursing in 2021 further demonstrating his incredible versatility, trainability and mental/physical soundness at almost 10 years of age. 
In 2022 at 10.5 years of age, Player qualified for the 2023 AKC National Agility Championship in 16" Preferred, and had several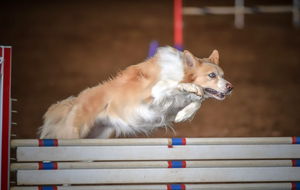 'perfect' agility weekends in a row putting him at QQ#18 towards his PACH going into the Fall of 2022.  For the 2022 NADD season, Player wins an invite in Air Retrieve at a competitive qualifier, officially inviting him to play at the 2022 NADD Regionals in the Fall where he is also qualified in Distance (for being the National Reserve Champion in his division). Unfortunately we are not able to make it to the National Showcase this year due to the business, but we hope Player will qualify and be able to play for a final year in 2023. In March 2023, four days after his 11th birthday Player finishes his PACH and is now retired from agility competition. Player has truly been a 'once in a lifetime' dog and he has never stopped impressing me, he brings his A-Game when he steps to the line in any performance event. 
When Player is not working, he is happy to hang out on the couch or sleep belly-up in our room at night.  He is quite the couch potato and loves to ride "shot gun" in the car. He's a fantastic traveler and is up for anything. He is very affectionate and loves to be with his "mom". He loved to help me teach in my classes and loved even more to run for new students to help them perfect their timing when he was younger. Player has so much heart and lives each day to the max.  He is an old soul and when you meet him he acts like he has known you his entire life.  Throughout his lifetime, we have always said he is "freaky good", shaping and learning new behaviors in just 2-3 attempts and can run an agility course completely on verbals or by watching my eyes. 
We have held back a puppy from almost all of his breedings as we have only bred him when we have been interested in keeping a puppy back for performance.  While Player has sired a total of 9 litters (two repeats), we have only used him in our own program 4 times. We currently live with 5 'Player-puppies': 
Hush
(xRemedy),
Shout!
(xSiri),
Glamour
(xPuzzle1.0, bred by Wescot Border Collies),
Creature
(xMyth, bred by Orion Border Collies), and his last litter gifting us a perfect singleton,
Zing!
(xPixel). We live with two grandkids:
HotShot
(xNV from Player/Puzzle) and
Atari
(xRyder from Player/Jenga!). He has produced very well for us and several other breeders, with kids (and grands/great grands) competing at high levels in a variety of sports (and many who do therapy visits) with solid health scores and good temperaments.  We get the privilege of working with several of his kids, grandkids, and great-grandkids each week when they come for classes or lessons. I love seeing how he has stamped a lot of his pups with his stable temperament, work ethic, goofy personality, and jump styles (in agility, disc, and dock). We are so thrilled to have shared our lives with this amazing boy and several of his equally talented progeny. 
---
As of 2021, Player is retired from breeding ; we do have frozen semen stored for the far future.
--> Player currently has 52 kids, 54 grandkids and 11 great-grandkids. 
To see an AKC Progeny Report list of current titled offspring, updated 5/22/2023, click here. 

Click here to be taken to a page with all his kids listed. 
Click here to be taken to a page with all his grandkids/GGkids listed
**NOTABLE ACCOMPLISHMENTS**


*2013 Skyhoundz World Finalist, 5th place XTreme Classic*
*2014 Skyhoundz World Finalist, 8th place XTreme Unlimited*
*2014 Skyhoundz "High Score" for Spot Landing (53 points)*
*2014 USDDN World Finalist*
*2014 Qualified for the AKC Agility National Championship (NAC)*

*2015 Skyhoundz World Record for D/A (28.5 points)*
*2015 UAD Spring Splash Regional Winner, 25'8" jump*
*2015 Ultimate Air Dogs World Finalist*
*2015 Skyhoundz World Finalist in Discdogathon, XTreme, and Classic*
*2015 PPPIDC Eastern Regional Invitee (dock diving)*

*2016 Skyhoundz World Finalist in Discdogathon, Xtreme, and Classic *
*AKC Master Agility Champion/MACH, April 2016*
*2016 Qualified for the AKC Agility National Championship (NAC)*
* 2016 Skyhoundz World Champion -- Time Trial, September 2016*
*2016 Skyhoundz Reserve World Champion -- Spot Landing, September 2016*
*2016 NADD Championship Finals, 4th place in competitive Master Air Retrieve (21')*
*2016 NADD National Breed Rankings Master AR, #1 Border Collie*
*2016 NADD National Breed History, first Border Collie to hit 21' in AR*

*2017 AKC National Agility Championship/NAC placed 10th cumulatively after 3 rounds, earning a spot in the Finals finishing in top 20*
*2017 Qualified for NADD Championship Finals in Air Retrieve*
*2017 NADD National Breed Rankings Master AR, #1 Border Collie*
*2017 Skyhoundz World Finalist, Classic and DDAT*
*2017 USDDN World Finalist, placed 8th/60+ teams*

*2018 Skyhoundz World Finalist, DDAT and Classic*
*2018 Skyhoudz DDAT Finals, 4th place in Time Trial*
*2018 Skyhoundz Classic Finals, 6th place in Sport out of 100+ teams*

*2019 Qualified for NADD Championship Finals in Senior Division*
*2019 NADD Ranked #1 Senior Distance Division (all breed)*

*2020 NADD Gulf Coast Regional CHAMPION in Veteran Senior Distance*
*2020 NADD Gulf Coast Regional CHAMPION in Senior Air Retrieve*

*2021 Skyhoundz World Finalist, DDAT and Classic*
*2021 Qualified for NADD Regionals and Nationals in Distance and AR*
*2021 Ranked NADD #1 Veteran Border Collie Senior Division*
*2021 Ranked NADD #1 Veteran Border Collie in AR (all divisions)*
*2021 NADD SE Regional Champion in Veteran Senior Distance*
*2021 AKC Master Agility Champion 2/MACH2, September 2021*
*2021 Qualified for the AKC National Agility Championship in 20"*
*2021 Skyhoundz World Champion -- Time Trial (15.3s)*
*2021 NADD National Showcase Reserve National Champion in Veteran Senior Distance*

*2022 Qualified for the NADD Regional Championship in Distance and AR*
*2022 Qualified for the NADD National Showcase in Distance and AR*
*2022 Qualified for 2023 AKC National Agility Championship*
*2023 AKC Preferred Master Agility Champion (PACH), March 2023
 
---