Here you will find information about grandkids and great grandkids to our Player (MACH2 Yosemite Hate The Game RN BCAT MXS MJB DMA DSX AMX PT, 2x Skyhoundz World Champion) from both our litters and outside litters. Any titles and OFA testing will be recorded as it is completed.
This litter was bred by Wendy Jordan of Wescot Border Collies. Wescot's Carbon Copy "Ditto" owned by Wendy from Wescot's first breeding of Player/Puzzle, was bred to Ammardan Play To Win Wescot also owned by Wendy Jordan. This is a repeat breeding. 
Wescot's New Year Resolution "Fable" owned by Cheyanne Jade Green
Wescot's Wescot's Champagne At Midnight "Toast" owned by Lois Mark
Wescot's Oh What a Night "Ziggy" owned by Heather Worman
Wescot TBA
Wescot TBA
Wescot TBA
Wescot TBA
This litter was bred by me/O'my! Border Collie and is our second litter of Player great-grandkids. The sire is our HotShot (AKC MJR PTD Wescot's How Do You Like Me Now RE AX AXJ OF SCN BCAT CGC DS TKI), bred by Wendy Jordan out of her NV (Player/Puzzle). The dam is our Wish (GCH CH HarborMist Dare To Dream RN OA OAJ NF DS DJ CGC TKN). 
O'my! Hot Off The Press CGC TKI "Extra!" co-owned with Donnette Draper in NC
O'my! Take Another Shot CGC TKN "Sequel" co-owned with Savanna & Danny Hicks in GA
O'my! TBD "Juno" owned by Brenda Rehrig in GA
O'my! Lucky Shot "Clue " owned by Kassidy Lemmens in FL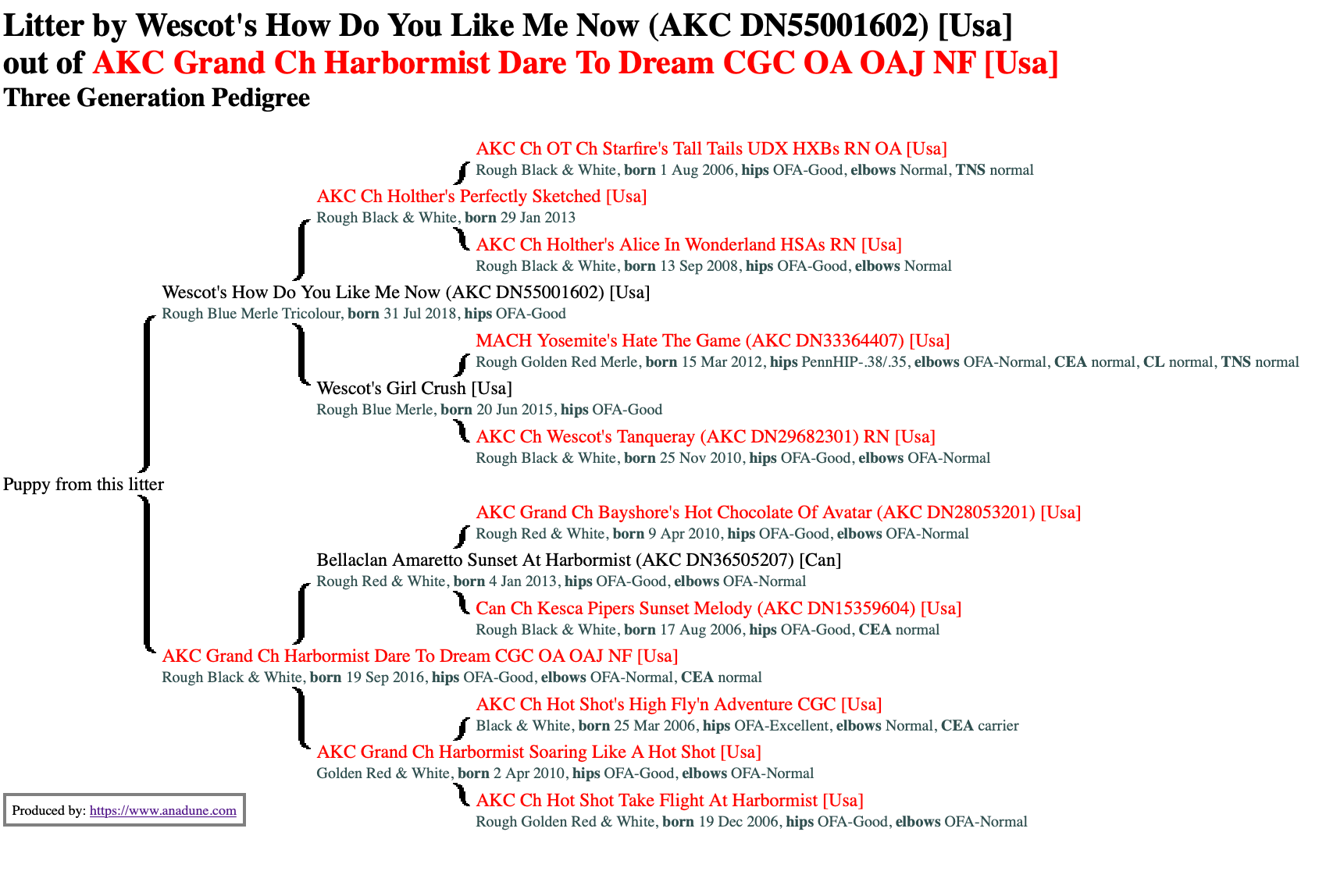 This litter was born January 17th, 2021 and was bred by Wendy Jordan of Wescot Border Collies, on a Wescot Border Collie contract agreement, and co-bred/raised by Hannah Naiburg. The dam is Fancy (MACh2 Wescot's In The Fast Lane MXS MJS, Player/Puzzle 1.0) and Sailor (AKC CH Wescot's Perfect Storm, owned by Katie from the Wescot breeding of Icii/Ketch). This litter is very similar pedigree wise to the NV/Landon breeding as Fancy is NV's full sister and Sailor is Landon's full brother. 
Wescot's Drinking On A Private Jet "Luxury" owned by Hannah Naiburg
Wescot's Hold My Drink And Watch This! "Party" owned by Emma Naiburg
Wescot's Day Drinking "Baja" owned by Wendy Jordan/Wescot Border Collies
Wescot's Drink Of Choice "Hennesey" owned by Lorinda McKisson
Wescot's Hold My Beer! "Hopper" owned by Michelle Levitt
Wescot's With A Twist Of Fate "Psychic" owned by Chloe Budzinski
Wescot's Royalty Infused Crown "Fusion" owned by Kinze Williams