MACh Holther's Cure For Black Magic RN MXB MJB NF
Call Name: Remedy
Nick Names: Princess, Rem, RemyD
DOB: 8/8/2010 - 7/2/2020

Color: Black/White, carries gold (E/e) and dilute
Coat: Rough

Height: 18"
Weight: 28 lbs
 
OFA Hips: Good
OFA Elbows: Normal

(click here to go directly to OFA)


Litters:

*Remedy was retired from breeding in 2016 and was spayed. Remedy has been deceased since 2020 from an aggressive cancer.
About Remedy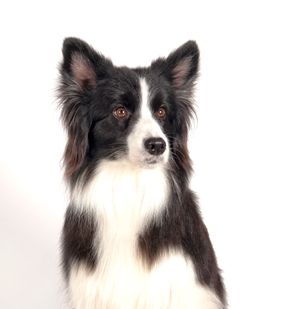 Remedy is our princess! Not only is she gorgeous, but she has a great personality. She is my "go to" dog for lessons and demos. With her good looks and charm, she's always a hit! She has been in two commercials to date and a print-- one for a dog collar in 2011, one for the Atlanta Journal Constitution in 2012, and the print for Royal Canin in 2015!

Remedy is a pistol -- she loves agility, frisbee, and lure coursing. She has been a breeze to train and learns things very quickly. When she's not working, she loves to cuddle on the couch or swim. She will fetch for hours if you let her. She is a happy girl and loves to please. Remedy is my second Master Agility Champion (MACh) dog, earning that last QQ just after her first litter with Ch. Holther's Shake Down the Thunder in the fall of 2013. She is also a Skyhoundz Frisbee World Finalist in 2013 for Extreme Distance, Time Trial, Spot Landing, and Bullseye. This girl is on FIRE!

In 2014, she placed competitively in every Skyhoundz event she was entered in at the World Finals in Chattanooga, TN while her 5 week old puppies from her 2nd litter out of our talented Player cheered her on. 

In 2015, Remedy showed us what she was made of -- she has once again qualified for all the Skyhoundz Events as well as USDDN Pro Toss & Fetch. In Skyhoundz, she placed 3rd on the podium in Time Trial and she became a World Champion in Pairs D/A!  At her first UKI trial, she ran clean in MS Agility and MS Jumping and earned herself a Bye into the Finals Round! The US Open will be held this November! She also earned a few more QQ's towards her MACh2 -- her first time back in the ring after her first MACh in 2013. Her daughter, Hope (xThunder '13) took 3rd place at the 2015 Skyhoundz Classic in Microdog Freestyle, and her daughter Skate (xPlayer '14) earned her Flyball Championship (FDCh) at just under 15 months of age!! 

In November of 2015, Remedy went to the U.S Open (UKI National Finals) in Perry, GA.  On Thursday, she got 3rd in the National Championship Round 1 Jumpers ( 16"s ) and Q'd in Snooker (gets to advanced to Round 2 Gamblers on Saturday). On Friday, she Q'd in Round 1 Speedstakes which advanced her to Round 2 Finals but unfortunately she got knocked bar. She also placed 4th in the National Championship Round 2 Agility which advances her to the Final Round on Sunday! Remedy placed competitively in her classes and really laid down some nice runs on some extremely tough courses. We are so proud of her! In Skyhoundz, she set two new personal bests in Bullseye (60 points!!!!) and Spot Landing, earning two new invites for the 2016 Skyhoundz Calendar year....

In 2016, Remedy becomes another World Champion in Bullseye with an amazing 59 points! This girl never, EVER, stops impressing us. 
In 2017, Remedy becomes another World Champion in Time Trial with 15.9 seconds. She won third place in Bullseye with a new personal bestow 61 points!! 
Since 2017, Remedy has mostly been retired from agility and many of the disc games however still competes in disc and putting up smoking times and scores at almost 10 years old. 
In 2020, Remedy passed away suddenly after being diagnosed with Thymoma, a rare form of cancer that less than 1% of dogs and cats can get. We tried to treat it aggressively, hoping to come at it hard to beat cancer and give her the best possible remaining years, but it was not meant to be. Sadly Remedy did not make it through the surgery and earned her angel wings on July 2nd, 2020 a few weeks after being diagnosed. My second MACh dog, 3x World Champion in Skyhoundz, our perfect princess, the best demo dog, mama to my heart and soul dog, Hush, who is the greatest gift she could ever give me..... we are devastated by this sudden loss. 

Remedy is co-owned with Holther Border Collies. We can't thank Holley Grooms enough for letting this special girl come into our lives.

 
---
**NOTABLE ACCOMPLISHMENTS**
*
*2011 Commercial for Furever Bright dog collar
*2012 Qualified for the AKC Agility National Championship
*2012 Commercial for Atlanta Journal Consitution (AJC)
*2013 Qualified for the AKC Agility National Championship
*2013 Earned

Master Agility Champion

(MACh)
*2013 Skyhoundz World Finalist in Discdogathon, 4th place Spot Landing*
* 2014 Skyhoundz World Finalist, top 10 in Xtreme Distance*
*2014 Skyhoundz World Finalist, 4th place Bullseye*
*2015 Print Production for Royal Canin and Got PET-ential!
*2015 Skyhoundz World Finalist in Discdogathon, 3rd place TimeTrial*
*2015 Skyhoundz World Finals Pairs D/A 1st Place

WORLD CHAMPION

*
*2015 USDDN Frisbee World Finalist**2015 Qualified for the UKI US Open in MS Jumping, earned a Bye into the Finals, to be held in November 2015!*
*2016 Skyhoundz

WORLD CHAMPION

 in Bullseye*
*2017 Skyhoundz World Finalist for Classic and DDAT*
*2017 Skyhoundz

WORLD CHAMPION

in Time Trial*
*2017 Skyhoundz Classic World Finals, top 10 in D/A*
*2018 Skyhoundz World Finals, 2nd place in Spot Landing*
*2019 Skyhoundz World Finalist*
*2020 Skyhoundz World Finalist*