UKC/AKC CH Trinity's Perfect Game RN MX MXJ NF DCAT DSA CGC
Call Name: River
DOB: 3/2/2019

Color: black/white, carries Ee (Gold) and Dd (dilute)
Coat: medium rough

Height: 19.5"
Weight: 34#
CEA/CH: Clear (tested through Gensol, the rest is clear by parentage)
TNS: Clear
CL: Clear
IGS: Clear
DM: Clear
MDR1: Clear
SN: Clear
BCG: Clear
EAOD: either Normal or Carrier as sire is Normal
(click here to be taken directly to OFA)
OFA Hips: Good
OFA Elbows: Normal
OFA Shoulders: Normal
BAER: Normal
CEAR: TBD
River is co-owned, loved, and trained by Tracy in GA. Tracy also co-owns Tonic (Hops/Spryte). River will be spayed after finishing her AKC conformation CH.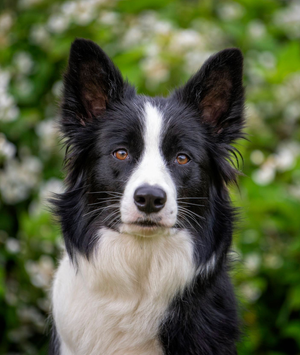 River is a stunning traditional black/white female bred by Brianne Farr, of Trinity Border Collies on March 2, 2019. River is out of Brianne's lovely homebred bitch, "Lyric" (Trinity's And The Story Unfolds NA NAJ NF BN RA CGC) and our talented "Player" (MACH2 Yosemite Hate The Game RN BCAT MXS MJS AMX DMA DSA PT). There were 7 gorgeous girls as a result of this first breeding (and 8 more siblings in the repeat) and I am so excited to watch them all and for River to have made her way here to live with our close friend, Tracy, and for her to co-own River with us. Click here to read more about this litter and for the repeat litter that was born in 2020.  
River is a very outgoing and happy girl. She is confident and exuberant and loves everyone she meets. We love her versatility when it comes to trying and doing 'all the things' thrown her way. She reminds us so much of her father, Player, in her overall attitude and demeanor. When she's working, River is extremely focused and ready to go. She has tremendous drive and working ability with the desire to go all day, but a natural off switch around the house. She's a lovely traveler and is very confident and sound in all types of environments. She's very snuggly! 
In agility, she's a beautiful jumper. She naturally loves distance handling and finds her lines easily. She is FAST but very responsive and biddable to her handler. In disc, she is turbo charged with a fast drive and retrieve with natural tracking abilities. Like most of her relatives, River is part fish and earned her Dock titles quickly. In her first season of competing, she earned her Advanced level titles and earned an invite to compete at the 2020 NADD Regional Championships. She recently tried her paw at lure coursing and earned her BCAT with scores consistently at 27+mph, with her personal best being 28.61mph. She has a HUGE stride with a lot of power behind it. River gives 150% of herself in every activity she is asked to do, and will work for anyone. In 2021, River wins the NADD SE Regional in the Senior Open division and gets a new personal best in the season of a 22'6" jump!
In her AKC Conformation, she has both majors and just needs a few points to finish her CH. In June 2023, River finishes her Championship going WB/BOW/BOS over Specials to finish her Championship! 
River has matured so nicely and is an incredible dog. She has more than proven herself in multiple sports and has a bombproof temperament, but she will not be used in our breeding program and will be spayed now she has finished her AKC Championship. We still think she's an amazing dog and are so proud of all River and Tracy have accomplished so far.