AKC CH HarborMist Ever After RN TKI CGC PT
Call name: Story
DOB: 12/9/16

Color: Black/white, carries red (B/b) and gold (E/e)
Coat: Rough 

Height: 18.25" 
Weight: 30#
CEA/CH: Normal via parentage
TNS: Normal via parentage
CL: Normal via parentage
DM: Normal (tested)
IGS: Normal (tested)
MDR1: Normal (tested)
SN: Normal (tested)
DH/RS: Carrier (tested)
BCG: Normal (tested)
EAOD: Normal (tested)
 
(click here to go directly to OFA site)
OFA Hips: Good
OFA Elbows: Normal
OFA Shoulders: Normal
OFA Cardiac: Normal
BAER/CAER: Normal
Story is co-owned.
Litters (click on each link to meet the puppies!):
Meet Story!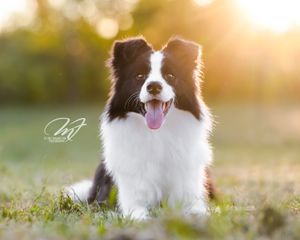 Story is one of the sweetest and happiest dogs you'll ever meet. She gravitates towards people and is already very in tune with her people. She's a pleaser and wants nothing more than to offer good behaviors and be told how GOOD she is. She loves to snuggle! However, don't let this sweet face fool you -- she's a fetching machine and loves to play. She is a little fish and loves to swim. Story is very bouncy and has big hops!
Nothing phases Story with her naturally confident and bubbly personality. Story loves every dog and person she meets. She earned her Canine Good Citizen (CGC) at just 5 months of age! In the Spring of 2018 she made her AKC Rally Obedience debut and went 4/4, earning her Rally Novice title and earning one leg in Intermediate with first and second placements! She is a flashy dog to watch in the ring as she just LOVES to work and play. 
Story has been exposed to livestock and she shows a lot of natural talent and promise. She is confident and nice to her sheep, shows good natural pace and has lovely natural square flanks. She is a good fetcher and shows a good aptitude for balance, too. She got her PT in just one weekend!

We raised Story for the first 17 months, earning her RN and CGC, and then she made her way to PA in June 2018 to stay with Kelli, one of our trusted friends, (who also owns Vanquish from our Player/Siri litter) to continue her training in conformation, herding and agility, in addition to start her foundation in fly ball. We know Story will shine at whatever she does! Story finished her breed Championship in Summer of 2020, handled by Kelli.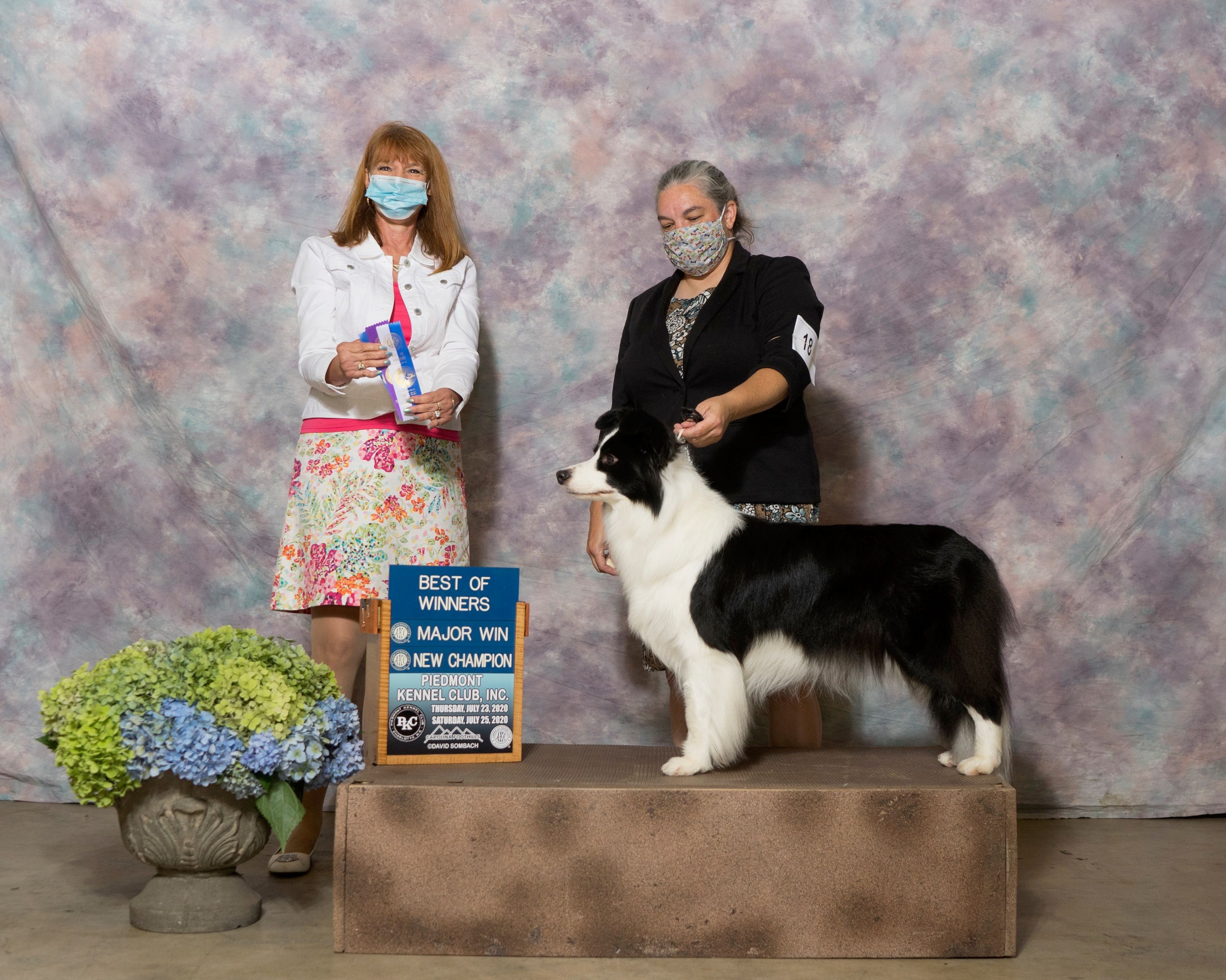 Story has dabbled/trained in agility, disc, fly ball, and lure coursing. She is very eager to try and do all the things you ask of her. She has a phenomenal natural off switch. To date, Story has had one litter of puppies in 2020 co-bred with Kelli to our Hotshot. These three puppies are not quite 2 years of age and are showing great versatility, drive, and work ethic as well as bomb proof temperaments. The pups are in training for agility, disc, dock, and obedience. You can check out this breeding by clicking here. 
We are thrilled with our other girls from Dori; AKC CH HarborMist Armaretto Sunrise Crush RN DSA BCAT ACT1 CGC "Spryte" (mother of our Shine, Cupcake and Hitman) AKC GCH CH HarbrMist's Dare To Dream OA OAJ NF TKN DJ  DS CGC, 2017 National Specialty Award of Merit (AOM) "Wish" (mother to our Dream, Valor, Extra! and Sequel).  We are very thankful that Dori agreed to let another one of her girls come to join our pack and our program!

 
Agility Training Clips 2017-2018