AKC CH O'my! Hot Off The Press RN CGC TKI
Call Name: Extra!
DOB: 6/1/2021

Color: black/white
Coat: rough

Height: 19.5"
Weight: 36# 
CEA/CH: Clear (will be tested through Optimal Selection)
TNS: Clear
CL: Clear
IGS: Clear
DM: Clear
MDR1: Clear
SN: Clear
DH/RS: Clear
AEOD: TBD 
BCG: Carrier
OFA Hips: too young
OFA Elbows: too young
OFA Shoulders: to young
BAER: Normal
 
Extra! is co-owned with Donnette in NC.
Extra! is a classically marked female from our only breeding of "Wish" (GCH CH Habormist Dare To Dream RN OA OAJ NF DS DJ TKN CGC) to our "HotShot" (AKC MJR PTD Wescot's How Do You Like Me Now RE AX AXJ OF MXP MJP SCN BCAT CA DSA TKI CGC). This breeding produced 4 wonderful puppies and you can read more about them by clicking here. 
Extra! is an outgoing, bubbly, confident, sassy, pushy, and engaging dog. From a young age she stood out with her "look at ME" personality and she showed all the makings to be a wonderful performance prospect in addition to a show prospect. Extra! is excelling in her foundations of conformation, rally, agility, and herding. She is very keen on stock and we are excited to see where that takes her and Donnette.  While she has her opinions, E is a wonderful and responsive teammate. She is a quick study and loves to play and work.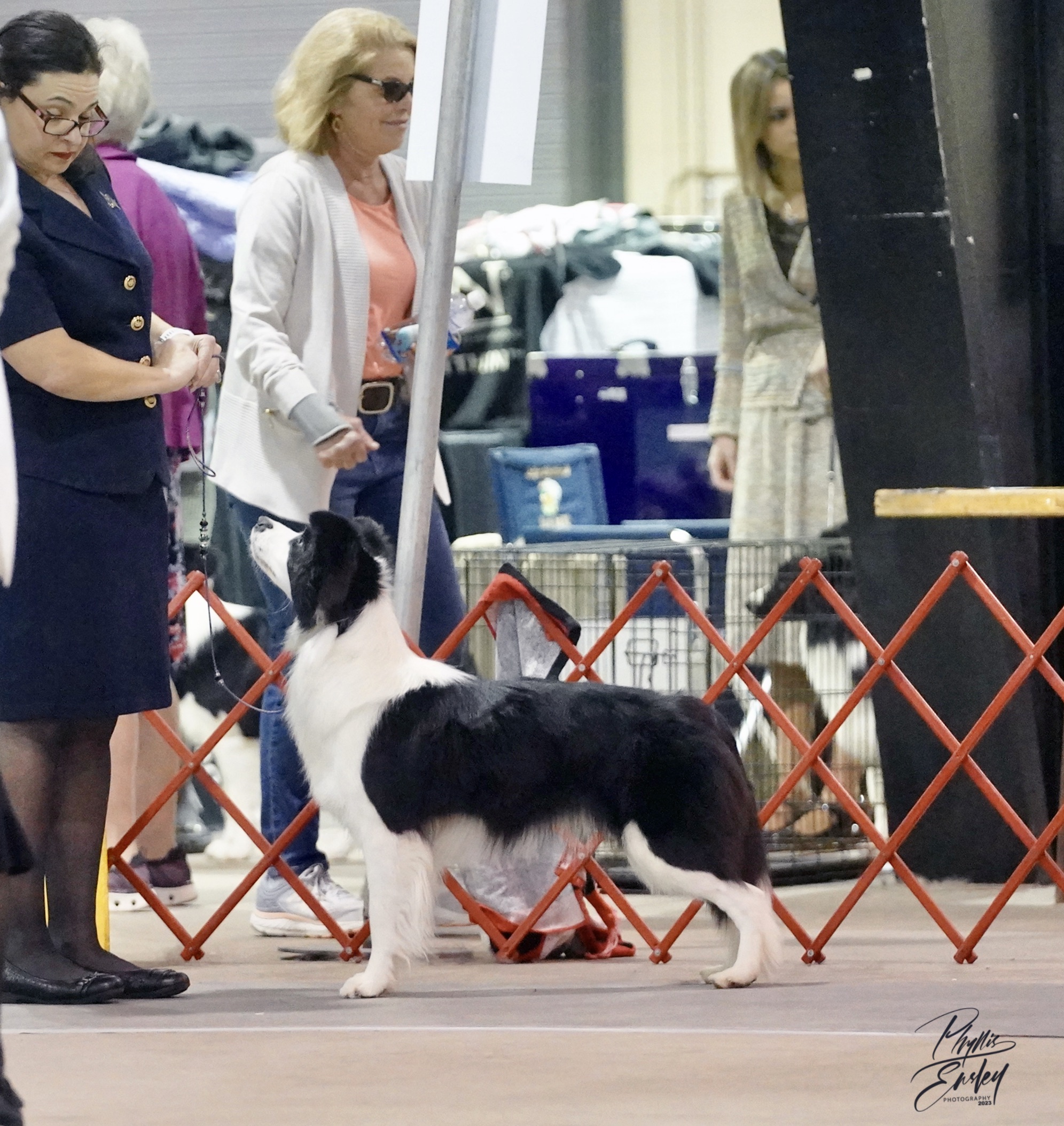 At 21 months of age, Extra! makes her AKC conformation debut at the Tarheel Cluster in Raleigh, NC. Piloted by Marisa Schmidt, she is awarded three back-to-back-to-back 5 point Major Wins under judges Mrs. Judith A. Brown (WB), Mr. Michael Canalizo (WB/BOW), and Mr. John P Wade (WB/BOW) and finishes her Championship in style in one show circuit! She is a natural showman, very eye-catching, almost demanding your attention,  very much like how her mama Wish was in the show ring. She has correct movement for the breed, moving with a strong top line and a level head and low tail. She has a lovely side gait and covers ground effortlessly. We are thrilled for team Extra! and look forward to seeing her persue her Grand when she has time to mature. In the meantime, she is coming along nicely in her agility, herding, disc, dock and fly ball foundations and can't wait to see her compete later in 2023. She is definately a "do it all" kind of girl which we love to see. 
The future is bright for Donnette and this super speical Extra! girl. She is co-owned and we hope she will return in a few years for a litter pending her performance/show career and health results. 
---
Herding/Flyball Foundations June 2022
Conformation - AKC CH! March 2023