O'my! Know-It-All DS OA OAJ
Call Name: Siri
DOB: 12/10/2012

Color: Black tricolor
Coat: Smooth, carries rough coat

Height: 16.75"
Weight: 26 lb
 
CEA/CH: Clear (tested through PawPrint Genetics)
TNS: Clear
CL: Clear
IGS: Clear
DM: Clear
MDR1: Clear

CERF: Normal (2015)
BAER: Normal
OFA Hips: Good
OFA Elbows: Normal
OFA Shoulders: Normal
OFA Patellas: Normal

(click here to go directly to OFA)
 
Siri has been retired from breeding since 2016 and has been spayed. 

Litters:
x Hap (bred/whelped by Vickey Russell)
x TN Hooty
About Siri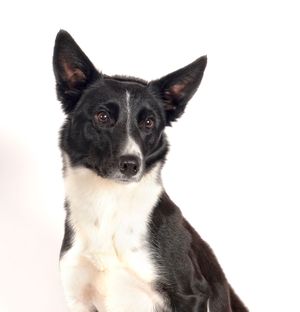 Siri is our little speed demon. Her good looks, nice structure, sweet personality completely won us over and we had to have her even though she wasn't exactly "planned".  She is out of Suzy Applegate's "Buzz" and Vickey Russell's "Devi", two strong herding dogs that we have admired greatly for some time. Devi is very level headed and is Vickey Russell's #1 go to dog. She trialed successfully in Open for quite some time. Siri's sire, Buzz, has quite the accomplishments too. He was the 2008 National Nursery Champion (and was also awarded the 2008 Walt Jagger Memorial Trophy for Most Promising Young Dog), the 2010 Meeker Classic winner as well as placed 4th at the National Final.  Buzz also has a full brother, "Kep" who was on the AKC World Team in 2011 and EO in 2013. Buzz has many other siblings and offspring who are trialing successful in their chosen venues (herding and agility). 

Siri is also a younger half sibling to our Limit, who in 2015 at the Skyhoundz Discdogathon World Finals, became a WORLD CHAMPION in Freestyle!!!

Siri a very caring dog and loves to be with people. Siri has never met a stranger and loves everyone she meets. Honest, hardworking, and no quit are three ways I would describe this little pocket rocket. 

Siri loves to work -- agility, frisbee, dock diving.....whatever it is, she's in! She's also an expert cuddler....she's very affectionate and has an amazing off switch. We often get compliments on how she just lies quietly and relaxes ringside, but when it's her turn to play all you see is her game face. She's lovingly referred to as the "pancake" around here as she takes her lie down command very seriously -- she's so low that she's literally as flat as a pancake.

Siri is a quick-study. Since she loves to please, working with her is very easy. She started her agility career off with a BANG!, going 5/6 and earning her Novice Standard title and then quickly earning her titles at the Open level.  In herding, Siri has lovely natural balance and feel for her stock. She is very kind to her sheep and has a good pace.

Siri's first love, however, is frisbee, which is what she currently competes in. In her first year of competing (and at her first National event!) and not yet 2 years of age, Siri placed 2nd in the Skyhoundz World Finals in TimeTrial and in Distance and Accuracy. This girl is fast, fast, FAST! In 2015, Siri was only 1.5 points away from the 1st place spot on the podium. In 2016, Siri became a WORLD CHAMPION and in 2017 she placed in the top 10 in a very competitive line up of dogs. In 2018, Siri became another WORLD CHAMPION this time in Microdog XTreme Distance with her friend Aura from Columbia and was a runner up on the podium in Microdog Sport.  This  girl has so much heart. 
In between all of this success, Siri has had two lovely litters for us and was then spayed. You can find more about them by scrolling to the top under her stats. 






 
---
**NOTABLE ACCOMPLISHMENTS**

*2014 Skyhoundz World Finalist for Xtreme, Classic, and Discdogathon*
*2014 Skyhoundz World Finalist in TimeTrial, 2nd place with 16.12s*
*2014 Skyhoundz World Finalist in Classic D/A, 2nd place*
*2015 USDDN World Finalist, to be held in October 2015*
*2015 Skyhoundz World Finalist for XTreme, Classic, and Discdogathon, to be held September 2015**2015 Skyhoundz Discdogathon Finals, 4th place Pairs D/A*
*2015 Skyhoundz Classic Finals, 4th place overall World Finalist in  D/A*
*2016 Skyhoundz Classic World Finals, new

WORLD CHAMPION

in D/A (Microdog)*
*2017 Qualified for Skyhoundz DDAT/Classic, Top 10 in the World*
*2018 Skyhoundz World Finalist in DDAT, XD and Classic*
*2018 Skyhoundz XD World Finals, new

WORLD CHAMPION

(Microdog)*
*2018 Skyhoundz World Finals, 4th place Spot Landing*
*2018 Skyhoundz Classic World Finals, 2nd place (Microdog Sport)*
*
Excellent Jumpers -- "Q" September 2016
Agility/Dock Training June 2015