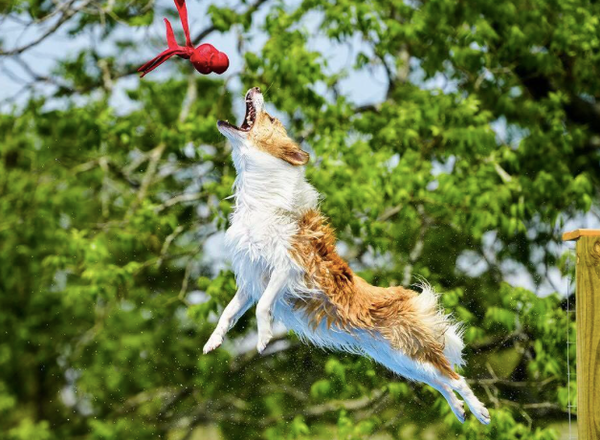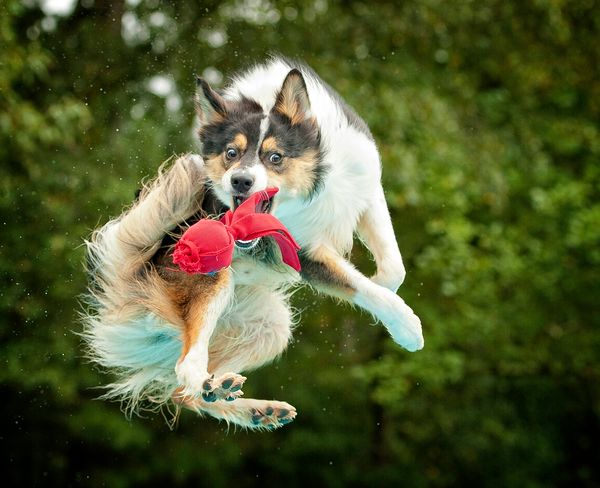 This litter was born on January 14th, 2020 -- there are two girls and one boy. This is Spryte's third litter and Ryder's (Player/Jenga!) first and only litter. These guys are confident, spunky, full of salt, and incredibly smart and I am excited to see what all of their owners do with them in the next few years. They are all incredibly driven, smart as a whip, and are displaying great natural aptitude for swimming in addition to their rock solid and friendly temperaments.
The litter theme for this special group nods to Player and Jenga!, being "game" related with their registered names being AC/DC songs (as Jenga!'s freestyle song during her career has been "Back In Black") :  Sega (now Caliente, white tip girl), PlayStation (now Hitman, gold boy), and Atari. We are very excited to watch these puppies grow and start their future in their chosen sports of frisbee and dock diving. 
At almost 2 years of age (2nd picture, with daddy Ryder on left), this litter is everything we were hoping for and more! Atari and Cal qualified for the 2021 NADD Regional Championships, and both Hitman and Atari qualified for the 2021 Skyhoundz World Championship Finals. Cal has put up impressive scores already in UpDog and  qualified for UPDIFF Finals. These kids are loaded with power and are extremely versatile. Atari and Hitman have really excelled in Rally, earning their RN and RA respectively quickly. Cal is proving just how FAAAAAST she is with her BCAT title and personal best of 28.5mph. I'm really looking forward to seeing what all three can do in the following years when they are even more mature. 
Update Summer 2022: All three puppies came back OFA Excellent!!! Hitman now has a personal best in Fast Cat at 28.6mph and a PB on the dock at the start of his tracking foundations of 22' from half dock. All three pups are qualified for the 2022 NADD SE Regional and the 2022 Skyhoundz World Championship in Classic and/or D/A. Cal is well started in her agility foundations with Briana, she's a great teammate and of course a quick study. I'm hoping they will be competing before too long. Hitman is a powerhouse with a large and fast stride, a totally different dog for Clair (who also owns Dream) so they are taking things slow. He's been mistaken for granddaddy Player several times already both on the agility and disc field LOL. Atari is coming along in her freestyle disc foundations and is hitting some really nice master jumps on the dock.