AKC CH HarborMist Amaretto Sunrise Crush RN DSA BCAT ACT1 CGCA CGCU TKP
Call Name: Spryte
DOB: 10/23/2014

Color: ee red (gold/white), carries red (B/b)
Coat: rough

Height: 17.5"
Weight: 30#


 
CEA/CH: Clear (tested through Optimal Selection)
TNS: Clear
CL: Clear
IGS: Clear
DM: Clear
SN: Clear
MDR1: Clear
DH/RS: Carrier 
EAOD: Carrier 
 
(click here to be taken directly to OFA) 
OFA Hips: Good
OFA Elbows: Normal
OFA Shoulders: Normal

Spryte is co-owned with Tiffany in south GA.
**Spryte is retired from breeding.
Litters: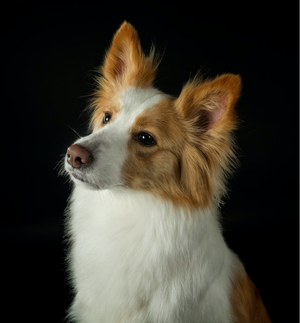 Spryte is an outgoing, fun, and spunky girl. She has a wonderful personality with tons of charisma and charm. She is quite assertive and can be pretty pushy. She loves to tug, play ball and is an avid fetcher! She has incredible "hops" for the disc. She is a fish at heart and it's hard keeping her out of the water -- dock diving is probably her most favorite thing! In just three weeks of training, Spryte earned her Senior Dock title with a personal best jump of 18'3"! She has since been working towards her higher level Master and Senior titles with some nice jumps - her personal best with NADD is 21'0". She has an adorable personality and loves to play bow and moonwalk. Spryte was exposed to livestock and showed good instinct. She had lovely pace and natural feel for her stock. She is kind to her stock and showed a lot of promise. Spryte loves to lure course and play frisbee, too.

Spryte finished her breed Championship title easily with limited showing. In her debut in the Fall of 2015, she went Winners Bitch for 2 points towards her CH and on the second day she earned a 3-point Major under judge Pat Hastings! In the Spring of 2016, Spryte and I went Winners Bitch, Best of Winners, and Best of Opposite for another 3-point Major under judge Polly Smith (who also gave Spryte's mom a 5 point-major in 2009!). Spryte and I finished under judge Charles Trotter in the Fall of 2016 going Winners Bitch, Best of Opposite, and OH-Best of Breed. As of Fall 2018, Spryte has her first competition win towards her GCH. 

When the opportunity presented itself for this little blonde bombshell to come and join us, we just couldn't say no. We have admired Spryte's dam "Fly" and what she has produced -- this was her final breeding to a beautiful up and coming CH major pointed "Turtle" that has a wonderful pedigree behind him. Spryte is a half-sibling (and Aunt) to our Wish, International CH, AKC GCH HarbrMist's Dare To Dream OA OAJ NF TKN DS CGC, 2017 National Specialty Award of Merit (AOM), and to our super sweet Story, AKC CH HarborMist Ever After RN TKI CGC. We are so very thankful that Spryte's breeder, Dori Yarberry/HarborMist Border Collies, agreed to let her come to Georgia and we are very grateful for Tiffany for opening up her home to this fabulous girl and for sharing her with us over these years in our program. 
---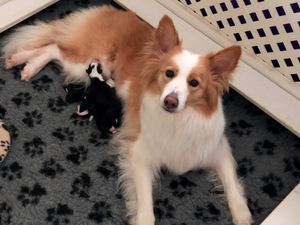 Spryte has been a HUGE asset to our breeding program. She passed down her versatility, drive, punch, salt, work ethic, lovely movement, and big personality. She was a fabulous mother, easy whelper, and truly enjoyed teaching and playing with her puppies.
Spryte is now retired from breeding as of 2020. She has left quite the legacy with which we will be forever grateful for. We hope to utilize her daughter Cupcake in our program as well as son Hitman (Ryder/Spryte). We had a lovely litter from daughter Shine (Dare/Spryte) in 2022 and kept Firefly to move forward with and a singleton named Zing! from Pixel (Dare/Spryte) in 2021 that we also kept.  
In her 4 litters, she has kids titled across the board in agility, scent work, dock diving, disc, obedience/rally, one AKC Bronze Grand Champion with multiple OH Group placements (and currently top 10 in OH rankings in 2021/2022) and two additional AKC Champions in the breed ring. She has puppies who have qualified for NADD National/Regional Championships (as well as placements and wins at Nationals/Regionals) as well as puppies who have qualified for multiple Disc Championships/World Finals in addition to working towards their RACH and MACHs. I couldn't be more proud of the puppies she has produced. 
***Progeny of AKC CH Harbormist Amaretto Sunrise Crush RN ACT1 BCAT DSX CGCA CGCU "Spryte":
x RACH CH Dare UDX ODX BN GN GO RAE RMX HSAs AX AXJ OF AD AS SSA SJ DJ CA CGCA
*Pixel and Shine both were utlilized in our program for one litter, leaving us Zing! (Player/Pixel) and Firefly (ReCon/Shine) to hopefully move forward with
x Reef RN RATS FDCH-Gold MBDX DMX2 AMX HDMA DDP TKA CGC ATD
x Ryder DE DMA AM HDJ (Player/Jenga!)
O'my! Shoot to Thrill RE AX AXJ OF BCAT CA DM DE DSA AS TKI CGCA CGCU "Hitman" | OFA Hips Excellent / Elbows/Shoulders Normal - co-owned
O'my! Breaking the Rules RN DMA DSA TKN  "Atari" | OFA Hips Excellent - stayed here
O'my! Kissin' Dynamite OA OAJ RATN DCAT DM DSX TKI "Caliente" | OFA Hips Excellent - co-owned
 
x CH Hops CD BN RA PT OA NAJ OF RATS DCAT DE DMX DDSE TKI
---