O'my! Shoot to Thrill RE AX AXJ OF BCAT CA DM DE CGCA CGCU TKI
Call name: Hitman
DOB: 1/14/2020
 
Color: gold/white (masking black tricolor, carries red (Bb) non-merle)
Coat: medium rough 
Height: 21.88"
Weight: 55#
(DNA Health Testing completed through Optimal Selection)
CEA/CH: Clear
TNS: Clear
CL: Clear
DM: Clear 
IGS: Clear
MDR1: Clear 
SN: Clear
DH/RS: Clear
EAOD: Clear
BCG: Carrier (tested through GenSolDX, but also a carrier via parentage)
(click here to be taken directly to the OFA Database)
OFA Hips: Excellent
OFA Elbows: Normal
OFA Shoulders:  Normal
OFA Advanced Cardiac: Normal (AUSC+ECHO)
BAER: Normal
CERF: Normal
Hitman is co-owned, loved, and trained by Clair & Brian Kennedy. 
Hitman is a handsome gold/white male (non merle, masking black/white) out of our only breeding of Spryte (AKC CH HarborMist Amaretto Sunrise Crush RN BCAT ACT1 DSA CGCU CGCA) x Ryder (O'my! Midnight Ryder DE DMA AM HDJ, from our Player/Jenga! breeding). You can read more about this litter by clicking here.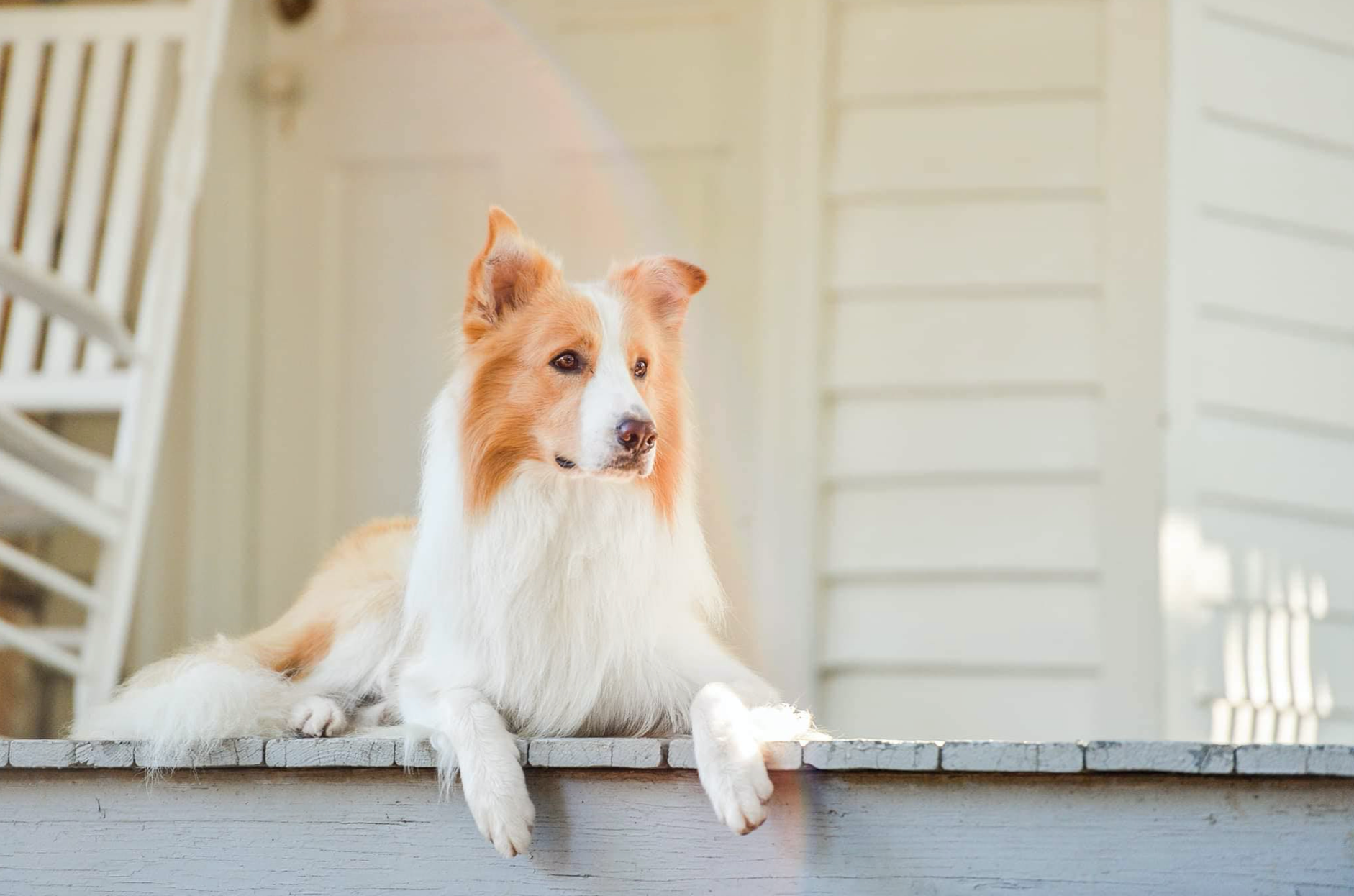 Hitman is such an awesome dog -- cool as a cucumber one moment and feisty and causing a commotion the next. He is very intuitive, much like many of his relatives, offering natural eye contact and settling abilities. He LOVES to be with his people and to hangout with his person. His confident good nature really caught our eye early on in addition to his overall balance and movement. Fierce toy drive and a natural swimmer, we know he will continue on in the next generation of versatile performance dogs and follow in the footsteps of his talented grandparents. He got his AKC Novice Trick Dog Title at just 10 weeks old! He got his Dock Senior title at just 8 months of age with a personal best of 18'!! 
While Hitman was our pick keeper from this breeding, his "foster family" fell in love with him (how could you not??!) and he fell in love with them so the decision was made for him to stay with them permanently. Clair & Brian also co-own his older cousin Dream (Hops/Wish) and I am so thankful they opened their home to another one of our babies. 
At just over 3 years of age, Hitman is the beast we knew he would be in dog sports. He has a huge stride in agility with nice jumping ability, incredible power off the dock, and natural pop and tracking abilities in disc. Hitman qualified for the 2021 Skyhoundz DDAT World Championship in his first season of playing disc and is qualified for the 2022 World Championship for both the DDAT and Classic. In FastCAT, his personal best is 28.6mph. His personal best on the dock in NADD is currently 24'10" at ¾ dock and is qualified for the 2023 NADD Southeast Regional after winning the Elite Distance Division and Senior Air Retrieve Division at a Qualifier. 
He reminds us so much of his grandaddy, Player, both in his happy and playful temperament and performance ability and drive, that people often assume he is a Player kid (or Player himself!!) when they see him out on the field or walking around events. 
Hitman is a half brother to our GCHS CH Shine BN RE FDC AX AXJ XF CA BCAT RATN DM DSX AJ CGCA CGCU TKP, *Award of Excellence at the 2021 AKC National Championship, AKC CH Pixel RE DCAT NA NAJ OF SWE SEA, and our AKC CH Cupcake RE AX AXJ BCAT CA RATS SIN SCN DS CGCA CGCU TKA and AKC PTD Tonic RN BCAT CA RATO DS DM CGCA CGCU. His mother, AKC CH Spryte RN BCAT ACT1 DSA CGCA CGCU has been such an asset to our breeding program with her drive, structure, and temperament and we are so thrilled to have a few Spryte kids to move forward with both in performance, the breed ring, and in our breeding program. Hitman's grandfather, MACH2 PACH Player RN MXB MXP MJB2 MJP2 PAX BCAT DMA DSX2 AMA DSA PT (2x World Champion in Disc + World Record Holder), has also been quite the asset to our breeding program with his work ethic, structure, solid temperament, and 'do it all' mentality. We are so excited about Hitman and his future!
Check back to watch him continue his adventures alongside his cousin Dream, as he tackles agility, dock diving, and frisbee. 
Pending his continued performance ability, we hope to utilize Hitman in the future in our program and he may be available at stud on a very limited basis.
(dock clips below taken June 2022, working at 25' back on the dock)
AKC Excellent JWW/STD - Jan 2023
AKC Excellent JWW Title - Jan 2023