Inferno's In It 2 Win It! AX AXJ
Call Name: Jenga!
Nick Name: J!, J-baby, Psycho
DOB: 7/13/2012

Color: Black/white, carries tricolor and red (B/b)
Coat: Smooth, carries rough coat

Height: 21.00"
Weight: 36 lbs
CEA/CH: Clear (panel tested through PawPrint Genetics)
TNS: Clear
CL: Clear
DM: Clear
IGS: Clear
MDR1: Clear
(click here to visit her OFA page)
OFA Hips: Good
OFA Elbows: Normal
OFA Shoulders: Normal
PennHIP: 70th Percentile

CERF: Normal
BAER: Normal


Jenga! is retired from breeding as of 2018 and is now spayed. 

Litters:
About Jenga!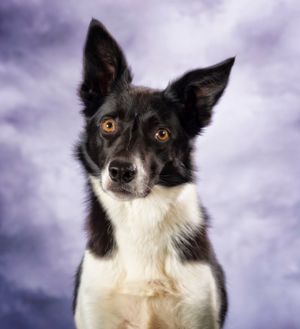 Jenga! is a big, strong, powerful, pushy female who excels at agility, dock diving, and frisbee. She is biddable and will work for anyone while giving 100%. She is a "go getter"! She is hands down the fastest dog we have. Jenga! is built for speed and can also turn on a dime. At just 14 months of age, Jenga! placed 4th at the Skyhoundz World Finals in 2013 for one of the Xtreme Distance events at her 2nd ever disc event. In 2015, she became a World Champion in Xtreme Distance (Unlimited). She has a huge stride and can cover ground effortlessly. She has amazing endurance and stamina and rarely tires when working. She is very intense and wants to do things as fast and as correct as she possibly can -- we named her appropriately, as she is in it to WIN it! 

Off the agility course, Jenga! is a very happy dog. She doesn't take things personally and has a great off switch. She loves people and does a full body wag whenever she greets you (even if she's never met you). When she's not working she loves to lay around on her dog bed or hang out on the couch. She's very sweet, but not needy or in your face. She's an easy keeper and a fabulous traveler -- you don't even know she's here half the time!

We are thrilled and thankful to have this girl in our lives. Not only has she been a fabulous companion, competitor, and mom, she is a great combination of performance and working lines and we are excited to have her.
Jenga! has had two litters for us, one with our Player in 2014 and a singleton in 2018 with Hops. We retained rights to Ryder from the first litter (neutered in 2020 after his first and only litter) and Shuffle in the second (now spayed, and was never bred). 
Jenga! has been retired from freestyle and agility competition, but is still one of our main performance dogs for half-time shows, performances, and demonstrations. With her big air and intensity, she is a crowd favorite, and is known as our "Back In Black" dog which has been her freestyle song throughout her career. Both of her grandkids were named with AC/DC songs in her honor (Shoot To Thrill and Breaking The Rules). 

*NOTABLE ACCOMPLISHMENTS**

*2013 Skyhoundz World Finalist, 4th place Extreme Distance*
*2015 Skyhoundz World Finalist, new World Champion in Extreme Distance*
*2016 USDDN World Finalist*
*2016 Member of the Purina Pro Plan Performance Team*
*2017 Skyhoundz World Finalist for Classic and DDAT in Freestyle, to be held September 2017*
USDDN (disc) Competition 4/9/2017
Excellent Jumpers September 2016