Orion Stranger Things RN NA NAJ BCAT
Call Name: Creature
Nick Names: Creep, Creepy, Strange
DOB: 10/8/17

Color: Black tricolor, carries gold (E/e) and dilute (D/d)
Coat: Bearded 

Height: 16.75"
Weight: 24# 
CEA/CH: Clear (both parents 'clear' for entire Optimal Selection panel)
TNS: Clear
CL: Clear
IGS: Clear
DM: Clear
MDR1: Clear
SN: Clear
BCG: Clear
EAOD: Clear

CERF: Normal (2017)
BAER: Normal
Click here to go directly to OFA:
OFA Hips: Excellent
OFA Elbows: Normal
OFA Shoulders: Normal
 
Creature is AKC/ABCA registered as she is a purebred Border Collie.  
**Creature is spayed and was never bred.
Creature wasn't expected but we couldn't turn down this scruffy tricolor girl from our good friend Kelli Herbst/Orion Border Collie's breeding of her Imported Myth (Myth has since been under new ownership as of 2019) to our Player. We also co-own her brother, London, who lives in Florida with our good friend Babz who also owns Kitty (Player/Jenga!). Creature is a purebred Border Collie, she just has a bearded coat type. To see more information about this breeding and their pedigree, please click here.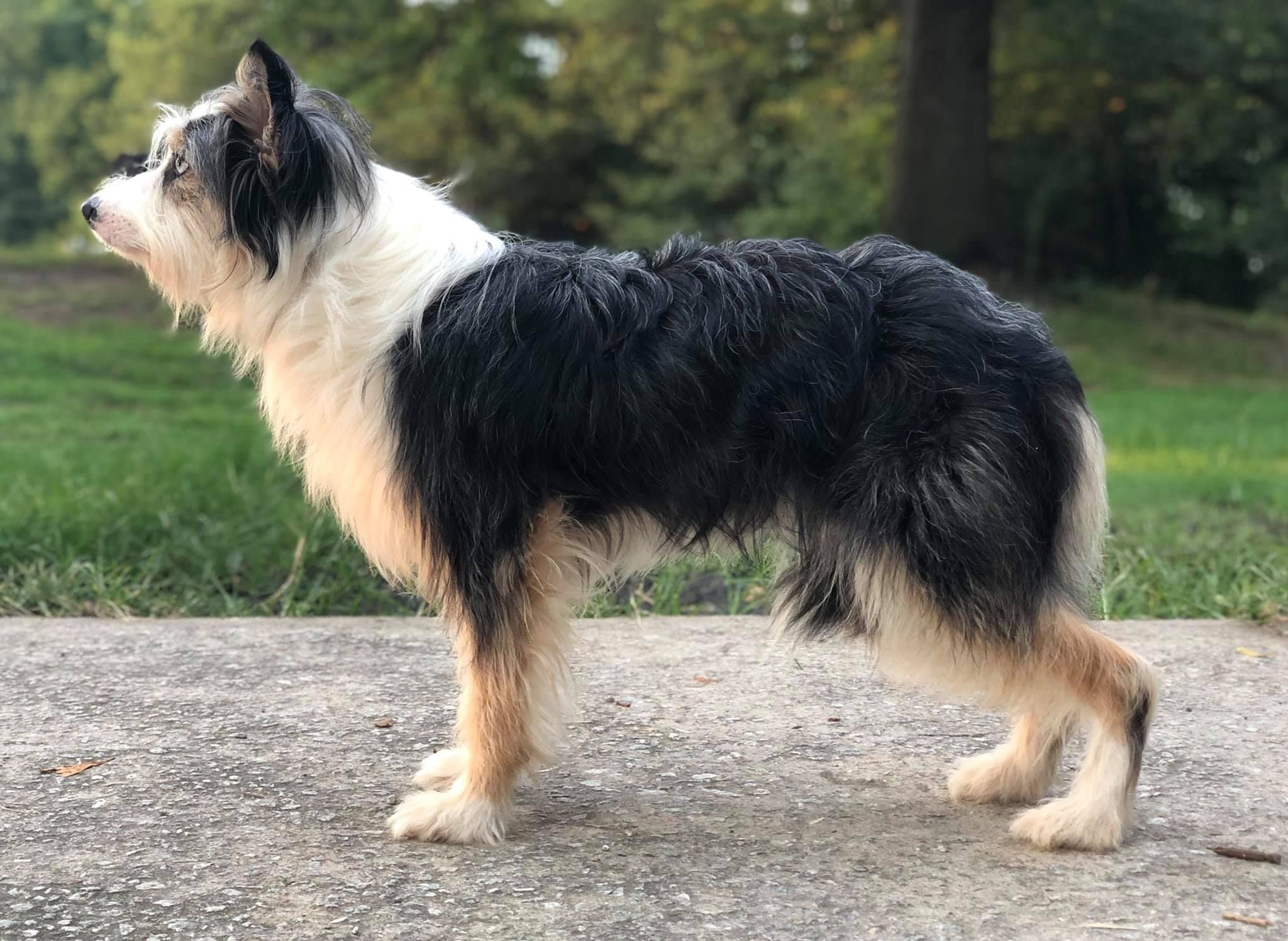 Creature is a very serious yet thoughtful dog -- she has great drive and makes all sorts of strange nosies as she plays and tugs. She is a worker bee and extremely focused on her task. True to the breed standard, Creature is "energetic, intelligent, keen, alert, and responsive. An intense worker of great tractability, affectionate towards friends but may be sensibly reserved towards strangers."  She has an incredibly sweet and biddable nature when she is not working.
In her agility training, she is a lovely smooth jumper and extremely "team" oriented. She's an easy dog to handle, has a great ability to switch between handler and obstacle focus when needed and rarely makes a mistake. She has made her debut in the UpDog agility games and has put up some competitive scores, however since Dean stole her for disc she most likely won't do much agility competitions. In disc, she has natural big hops for the disc and is really loving her freestyle foundations. She is bouncy, bouncy, BOUNCY! She has a great eye and really reads body cues well. She reminds us a lot of her half sister, Glamour, in Frisbee so far! Creature maintains an incredible head on her shoulders when she is in drive and working, but also has a wonderful off switch around the house. 
Creature really excels in disc which is where her time is currently spent. She's a fabulous tracker and has a powerful stride given her smaller stature. Creature has no issues working in a variety of environments and is very sound. At the 2021 Skyhoundz DDAT World Championship (and her first Championship event thanks to COVID), she placed 3rd in Micro Dog Spot Landing! At the 2022 Skyhoundz DDAT World Championship, she placed 2nd in Spot Landing and 3rd in Time Trial! 
Foundation/Training Videos!