AKC CH O'my! Y'Would Not Believe Your Eyes DS CGC TKN
Call Name: Firefly
Nick Names: 
DOB: 10/8/2022

Color: Black/white, carries ee red/gold
Coat: rough 

Height: 17.5" (7 months)
Weight: 25# (7 months)  
CEA/CH: Clear 
TNS: Clear
CL: Clear
IGS: Clear
DM: Clear
MDR1: Clear
SN: Clear
DH/RS: Clear
EAOD: Clear
BCG: Clear (tested through GensolDX)
(click here to go directly to OFA)
OFA Hips: prelim Good
OFA Elbows:  prelims Normal
OFA Shoulders:  prelims Normal
OFA Basic Cardiac: Fall 2023

BAER: Normal 11/18/2022
CERF/CAER: 1/21/2023
Firefly is a beautiful black/white female from our only litter from our co-owned Multiple Group-Placing | Multiple OH Group-Winning GCHS CH O'my! Time To Shine BN RE FDC AX AXJ XF CA BCAT RATN DM DSX2 AJ CGCA CGCU TKP VHMA "Shine" (Dare/Spryte, bred by us) to the wonderful MACH Holther's Secret Weapon MX MXB MXJ MJB NF (AKC CH PTD) "ReCon" (Thunder/Georgia, bred by Holley Grooms). 
Firefly is an outgoing, confident, sassy, and driven pup. We call her our little ray of sunshine - she is such a joy to be around. She is beyond sweet and loves every human and dog she meets; she loves to be the life of the party! She has a ton of natural toy drive and is quite the avid tugger and fetcher. When she was introduced to water in the Spring of 2023, she leapt right in. I'm happy to see another generation of fish! She reminds us a lot of her mother and grandmother with her mannerisms - mainly for her endless sass and "clacking" back. She has started foundations for "all the things" and I'm excited to see what her favorites end up being for this adrenaline junky. She got her Dock Senior title at 8 months old, followed by her Canine Good Citizen! At 10 months of age she hit a new personal best of 19'10" from half dock. She has naturally started tracking the toy and popping all on her own!
Firefly had a very short show career towards her Championship (four total days of showing to be exact!!!) - she got her toes wet in June 2023 at not yet 8 months old at the Honeysuckle Cluster in Perry, GA and went WB/BOW for her first 2 points towards her CH on the first day she showed followed by WB/BOW for a 3 point major win on the second day she showed! At 9 months old at the end of July 2023 at the Carolina FootHills Cluster in Greenville, SC she went WB/BOW for back to back 5 point majors to finish her CH!!! Firefly was shown exclusively from the Bred By Exhibitor 6-12 month puppy class. I hope to bring her out for her Grand in a few years once she finishes growing up.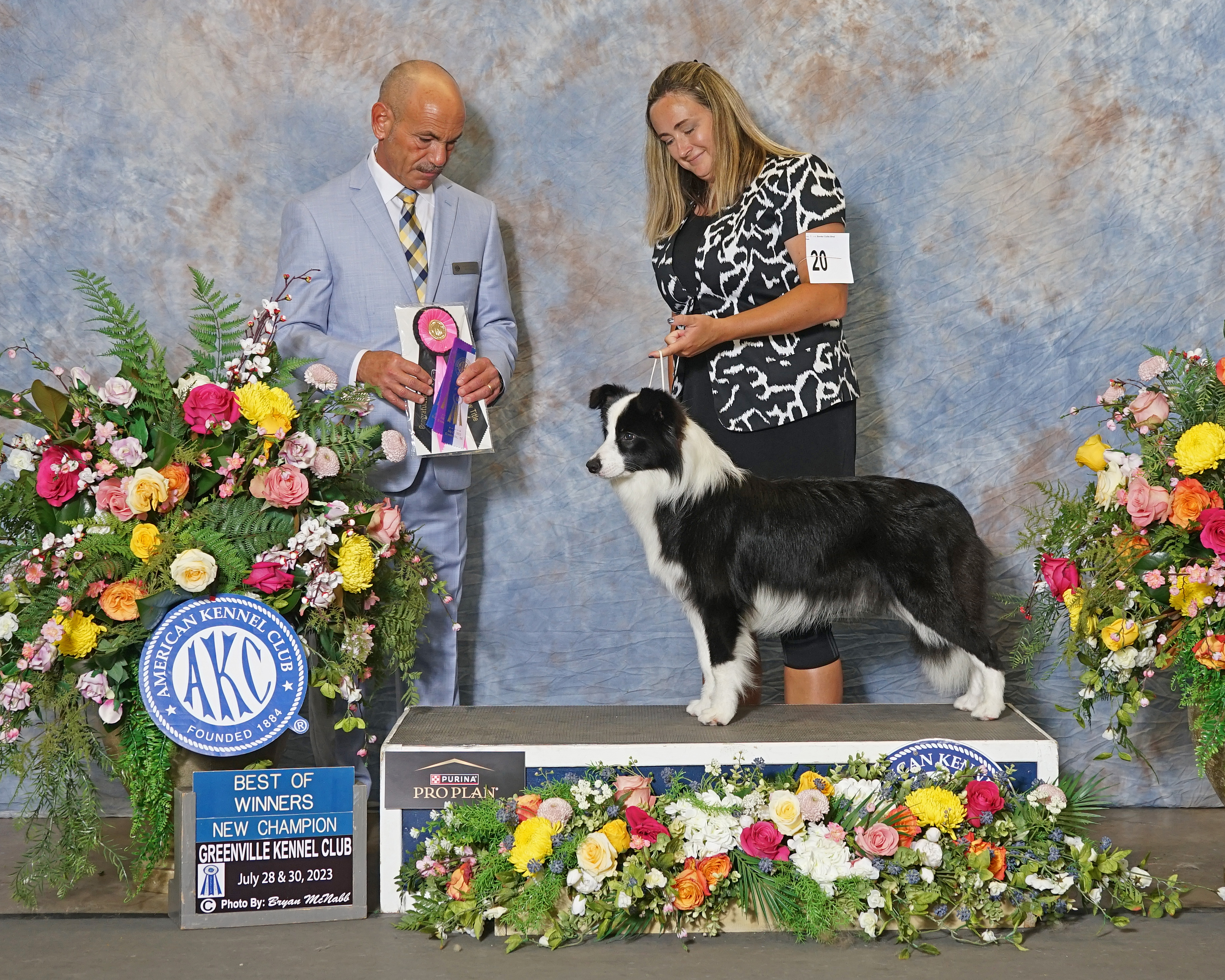 We are very excited that Firefly is staying here with us. Her mother, Shine, is one of our talented Spryte daughters, making Shine a half sister to our Cupcake (Hops/Spryte) and to our co-owned Hitman (Ryder/Spryte). Spryte has been such an asset to our program and I am thrilled to be able to utilize a few of her kids and hopefully grandkids moving forward. ReCon is a nephew to our late Remedy and we are so thankful that his breeder Holley Grooms and his co-owner Tinna Brown let us use him to Shine for this very special litter, and of course a huge forever 'thank you' to Shine's amazing co-owner, Cindy, for letting us use Shine for one litter. 
---