AKC GCHB CH O'my! Time To Shine OA OAJ XF RM BN DSA CGCA TKP CA RATI HIC
Call name: Shine
DOB: 10/24/17

Color: Black/white, carries ee (gold)
Coat: Rough 

Height: 19"
Weight: 34#
CEA/CH: Clear (tested through Optimal Selection)
TNS: Clear
CL: Clear
IGS: Clear
MDR1: Clear
DM: Clear
SN: Clear
DH/RS: Normal
EAOD: Normal


BAER: Normal
CERF: Normal
(click here to be taken directly to OFA website)
OFA Hips: Excellent
OFA Elbows: Normal
OFA Shoulders: Normal
Shine is co-owned with Cindy in GA. 
Shine is a traditional black/white female from our only breeding of our "Spryte" to Brianne's "Dare". This was our all girl Disney Fairy litter and you can read about this litter by clicking here. 
Shine is an outgoing, confident, friendly, and bubbly puppy. She loves to work and play. She has a big bubbly personality and I am excited to see what she accomplishes with her owner, Cindy, in dog sports. They are already well on their way on their foundations in obedience/rally, earning her Rally Novice title at 6.5 months of age with placements and scores of 98, 99, and 98! She finished her International and National Puppy Championship (IABCA) at a young age and at 8 months old won her first Best In Show (Puppy)!! In AKC conformation, she got her first five-point major by going Best of Opposite over Specials at just 10 months old (owner handled, pictured on left) and won her first Owner Handler Group 2 placement at 18 months (picture on right)! At her first Border Collie Nationals, Shine took 2nd place in a competitive 12-18 month class and 4th in Sweeps!!! Shine finished her championship in AKC at 18 months of age, all owner-handled, with another Group 2 O/H placement. She earned her GCH in AKC before her 3rd birthday with limited showing. 
At her first dock diving event at not yet a year old (and third time off a competition dock) she earns her Dock Senior title. A year later she gets a personal best of 21'9" and earns her Dock Senior Advanced title! At her first NADD National Championship, she makes the top 10 and places 8th overall in the Senior Division out of 200+ dogs. In 2020, Shine was in a three way tie for 1st place at the 2020 NADD Gulf Coast Regionals and become the RESERVE CHAMPION in the Senior division! For the 2020 NADD National Championship, she was also the RESERVE CHAMPION in the Senior Division out of 300+ dogs!
 Shine is also titled in Agility, Rally, Barn Hunt, Lure Coursing, and Competition Obedience. Photos below, left is her first major win at 10 months old in 2018 and the right is Winter 2021 working towards her Bronze GCH at 3.5 years old.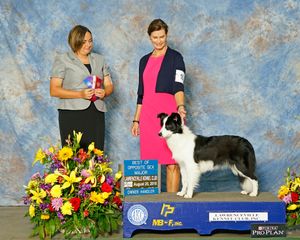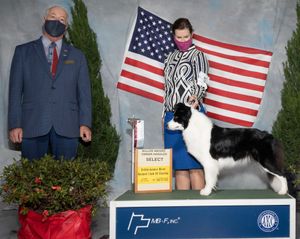 Here is what her owner, Cindy, has to say about her:
"O'my! Time To Shine is the complete package. Shine is an amazing little girl with bold confidence, stunning beauty, and affectionate temperament. She loves everyone and always has a jubilant demeanor. She's incredibly smart, very focused and amazes me at how quickly she accomplishes new tasks. Although Shine is always ready for adventure with a ready-to-roll attitude, she has the perfect off-switch and calmly sleeps beside me even when working at my desk all day.
At just over three months, Shine won four Best of Breed Puppy wins and two group wins at an IABCA show, and at just over five months she placed second at a Rally Novice match, earned her Trick Dog Advanced Title and CGC title (pending AKC approval). I cannot wait to see what Shine accomplishes with agility, dock diving, disc, obedience and whatever else makes her smile. Shine is all heart and drive, and with her potential the sky is the limit. I am so incredibly in love with this girl and I feel so lucky to be a part of the very talented O'my! family."
Shine is a niece to our Wish (Int'CH AKC GCH CH HarborMist Dare to Dream OA OAJ NF DS TKN CGC) who received an Award of Merit at the 2017 Border Collie National Specialty at just 11 months of age against 60+ Specials. She is also a niece to our Story (AKC CH HarborMist Ever After RN TKI CGC) who is showing tons of promise in herding, frisbee, and agility and an Aunt to our Revolution (Player/Lyric). Her mother, Spryte (AKC CH HarborMist Amaretto Sunrise Crush DSA TKP CGCU) has been such an asset to our breeding program with her drive, structure, and temperament and we are so thrilled to have a few Spryte daughters (Shine, Pixel, and Cupcake) to (hopefully) move forward with. 
Check back for updates as Shine continues her career in dog sports! Shine may be bred in 2022-2023. 
2019 NADD National Championship
2021 AKC Excellent Jumpers