CH O'My! Hidden Identity RE FDC NA NAJ OF FCAT SWA SCM SEM SIE DSA DDP CGCA CGCU TKP NW2
Call name: Pixel
DOB: 10/24/17

Color: Black/white, carries ee (gold) and dilute (Dd)
Coat: Rough 

Height: 17.75"
Weight: 30#
Pixel is co-owned, loved, and trained by Kathy C. in TN.
CEA/CH: Clear  (tested through Optimal Selection)
TNS: Clear
CL: Clear 
SN: Clear
MDR1: Clear
IGS: Clear
DH/RS: Clear
BCG: Carrier
AEOD: Clear
Click here to go directly to OFA
OFA Hips: Excellent
OFA Elbows: Normal
OFA Shoulders: Normal
BAER: Normal
CAER: Normal

Pixel is retired from breeding as of 2021 and is now spayed. 

Litters:
Pixel is a dark black/white female from our only breeding of our "Spryte" to Brianne's "Dare".  This was our all girl Disney Fairy litter and you can read about this litter by clicking here. 
Pixel is an outgoing, focused, confident, friendly, and inquisitive bitch. She loves to retrieve, swim, and play. She has tremendous work ethic and shines in every venue she has been exposed to. She is a nice jumper in agility, very quick on her feet with good natural turning ability. She is loaded with personality and drive and I am excited to see what she accomplishes with her owner, Kathy, in dog sports.  In her dock diving debut, she quickly earned her Junior and Senior titles with a new personal best of 18'2"!! She made her conformation debut in Summer 2019 and is got her first points towards her AKC Championship! She is currently in training for agility, nose work, disc, dock diving, and rally and is titled in all of them. In Summer 2020, Pixel was shown by myself in the bred-by class and picked up two back to back major wins bringing her 3/4 of the way to her Championship! Her next weekend out she gets another major win from the bred-by class, leaving her just needing 2 single points to finish, which her co-owner did in November 2020!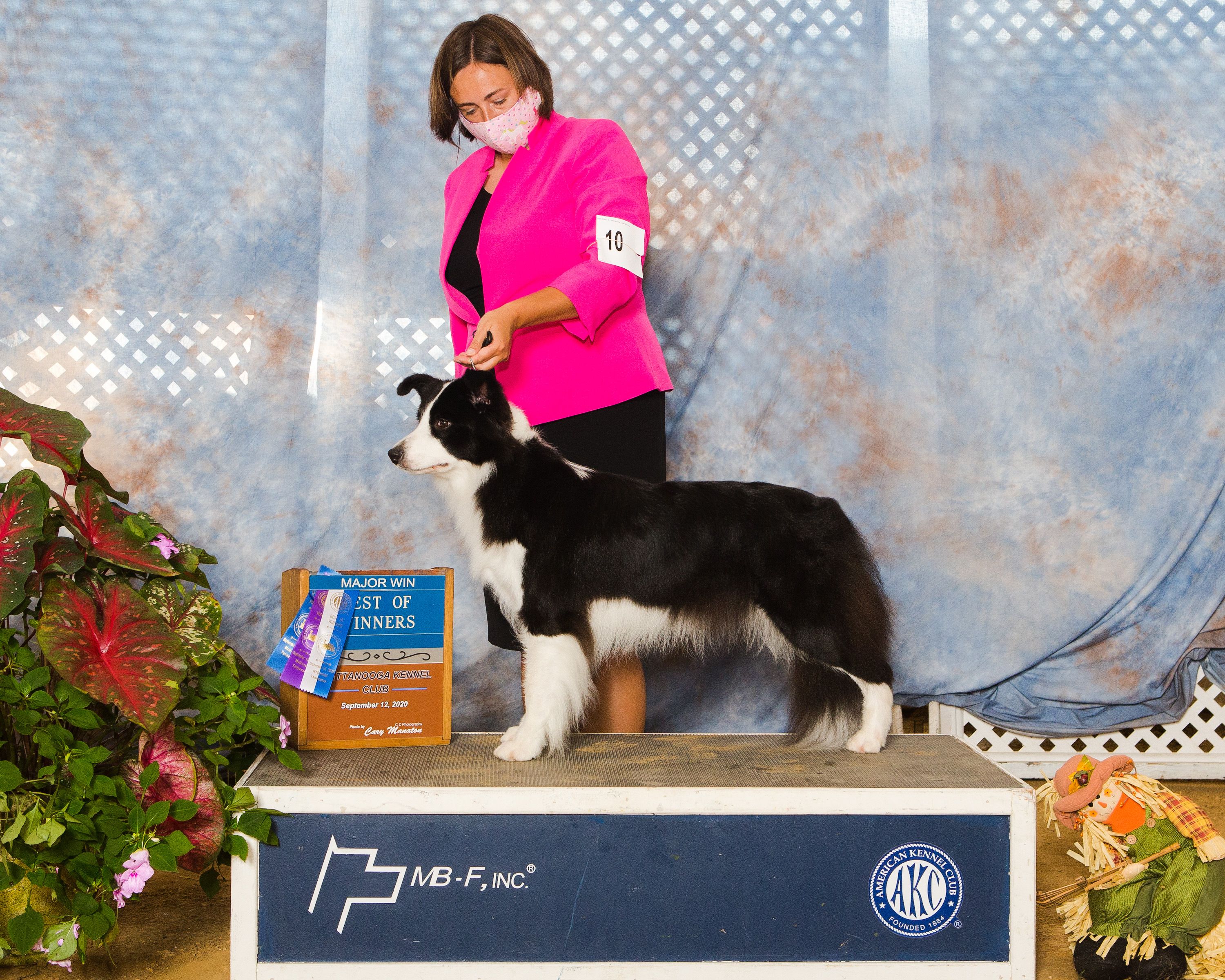 Pixel is a niece to our Wish (Int'CH AKC GCH CH HarborMist Dare to Dream OA OAJ NF DS TKN CGC) who received an Award of Merit at the 2017 Border Collie National Specialty at just 11 months of age against 60+ Specials. She is also a niece to our Story (AKC CH HarborMist Ever After RN TKI CGC) who is showing tons of promise in herding and an Aunt to our Revolution (Player/Lyric). Her mother, Spryte (AKC CH HarborMist Amaretto Sunrise Crush DSA TKP CGCU) has been such an asset to our breeding program with her drive, structure, and temperament and we are so thrilled to have a few Spryte daughters (Pixel, Shine and Cupcake) to (hopefully) move forward with. 
Pixel joined us in 2021 for one special litter to our Player that resulted in our perfect Zing!, click his name to meet him. Pixel is now spayed.